Driver Reviver attempts to make it easier to find and install updates for old drivers and software, but the just-released software ($30 for a one-year license, free feature-limited demo) currently makes the wrong call for a number of programs.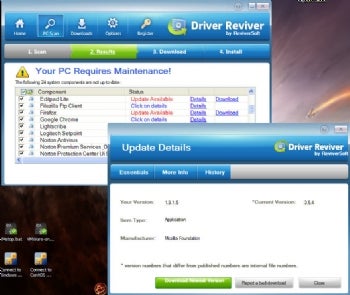 The app installs quickly, and it automatically scans your PC when you fire it up. When Driver Reviver finishes (which took maybe a minute on my software-laden test machine), you'll see a list of discovered software and drivers, with a color-coded status display for each one.
A Details link displays a blurb about each discovered driver or program, typically from the company that makes the software, along with version info. If Driver Reviver knows about an available update, you'll see a download link as well.
While useful and time-saving in theory, Driver Reviver's execution still needs some work. For one thing, although it finds many programs and drivers, it by no means finds them all. Also, it incorrectly listed a number of common and up-to-date programs, including Firefox, Opera and Norton Antivirus, as needing a patch. Although I've occasionally seen erroneous data in competing utilities, the number of errors in Driver Reviver was noticeably higher than in most.
Some of the mistakes appear to come from comparing the wrong version numbers. Program files offer up information about themselves, which you can access by right-clicking a file and selecting Properties, and then clicking the Version tab. Firefox and Opera display the correct program version under the Product Version listing. However, Driver Reviver instead uses the data listed under File Version for its comparison, and falsely reports both apps as out-of-date.
This free demo version of Driver Reviver will scan your PC and report on out-of-date software, but to use the provided download links you'll need to shell out $30 a year for a software subscription.
If you're a home user looking for tools to help keep your personal PC's software updated, you might also check out the free Secunia PSI. It focuses on finding security risks in old software, and generally doesn't list drivers. But you'll get all its functionality without a subscription fee.