At a Glance
Expert's Rating
Pros
Good keyboard feel
Very good CPU performance
Cons
Practically unusable touchpad
Mediocre battery life
Our Verdict
If it weren't for the absolutely awful touchpad, we'd have no problem recommending the speedy little Dell Inspiron 11z.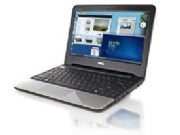 The Dell Inspiron 11z is an attempt to rectify the biggest drawback of current netbooks–low processing power–by using Intel's ultralow-voltage Celeron and Pentium CPUs. The 11z–which starts at $379–is available with either the single-core Celeron 743 or, as with our test unit, the dual-core Pentium SU4100. Both CPUs run at 1.3GHz with an 800MHz bus. Besides two cores, the Pentium SU4100 has 64-bit support. Oh, and it adds $75 to the price.
Choosing 64-bit Windows 7 Home Premium–which our test system came with–will cost you $30 more over the default Vista Home Basic operating system. And if you want any color other than "Obsidian Black," that will run you $40 more. Boost the RAM from 2GB to 4GB and choose a larger hard drive, and you can easily turn this under- $400 netbook into a nearly $700 companion device to your main system. In addition to the dual-core CPU, our test system had the 250GB drive upgrade but not the 4GB RAM option, a mix making for a fairly pricey netbook.
The Inspiron 11z earned 63 on WorldBench 6, a tie for the best netbook score we've seen yet. Nevertheless, the unit's limited RAM, lack of an optical drive, and small size will make it simply a light travel buddy or "companion PC" for most users. It's not all about the CPU power, after all. The screen resolution is 1366 by 768 with LED backlighting, which is a step up from many netbooks this size. It really helps alleviate that "can't see the whole drop-down menu" problem that so many of these devices have. Color and contrast are pretty good, though the lighting is a little bit uneven–it's noticeably darker along the top edge.
You can opt to upgrade the a/b/g Wi-Fi adapter to 802.11n for a nominal fee, or add 3G and GPS for a not-so-nominal fee. Dropping the Atom processor has also given Intel the ability to move to a superior GS45 chipset, which means better GMA4500 graphics. It's still no barn-burner in the 3D department and I wouldn't recommend playing 3D games on this system, but the video decoding is an improvement over what you find on many netbooks and might make that HDMI output worth having.
The 11z's performance comes at a price, of course. Yes, Intel's new ultralow-voltage CPUs employ a very small amount of power compared with its general laptop and desktop processors, but battery life still suffers compared with good Atom-based netbooks. A really good netbook will last for perhaps 5 hours on a standard-size battery, and 8 hours or more with the extended battery. Our video playback test killed the extended six-cell battery in less than 6 hours, and you'd be lucky to get 3 hours of uptime using Wi-Fi with the regular battery. The Inspiron 11z may be superior to the typical netbook in performance, but it's certainly inferior in its time away from the plug.
The netbook's design is simple, with nothing on the system's face but a power button, a keyboard, and a touchpad. You get three USB ports, HDMI, gigabit ethernet, headphone and microphone jacks, and a multicard reader. The large keyboard is easy to type on and has a nice springy feel with a fair amount of key travel. After a small period of adjustment, you'll probably be able to type quite comfortably on it. Not every netbook has a full-size backspace key, so it's nice to see one here. Overall, its design is not going to win any awards, but it's certainly not hard on the eyes.
So far, so good–right? It sounds like just the thing for customers who think Atom-based netbooks are a little underpowered for them. As long as you don't go overboard on extra features, making the system cost as much as a full-sized notebook, the Inspiron 11z sounds like just what the doctor ordered. Then you use it, and discover that the touchpad is practically worthless. It's mushy and unresponsive, with left and right "soft buttons" at the bottom that cause all sorts of problems; did you mean to move your hand down to the lower-right corner, or are you just resting your finger there to click the button? We experienced all sorts of false registers for the zoom and rotate gesture commands and eventually had to turn them off. Even with these disabled, we struggled to get the mouse pointer to go where we wanted it and to click when we wanted it to. You could always plug in a USB mouse, but that sort of defeats the "portability" angle that makes netbooks so enticing.
Sometimes, a product that receives an average score is an average product. Other times, it's a product with great strengths and terrible weaknesses, where the two average each other out. The Inspiron 11z is one of the latter. Dell's use of ULV processors and the GS45 platform offers superior performance to most netbooks, but battery life suffers, and the horrible touchpad makes for the kind of hair-pulling frustration most people buy a new PC to get away from.
–Jason Cross