At a Glance
Expert's Rating
Pros
Superb camera
Excellent browsing experience
Cons
Interface can be tricky to navigate
No MMS support
Our Verdict
The Nokia N900 is ideal for techies who want a lot of customization and power; anyone looking for apps and aesthetics may want to go with a more mainstream smartphone.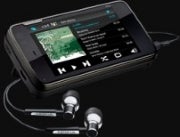 Nokia fans disappointed by last summer's N97 smartphone, get excited: The Nokia N900 ($570, unlocked; price as of December 18, 2009) delivers on its promises of fast performance and excellent Web browsing. It also offers solid multimedia features, as well as one of the best cameras I've used on a smartphone. But the N900 isn't for everyone: Some people might find the Linux-based Maemo (MAY-mo) platform confusing and not as user-friendly as other platforms. The handset is also missing some crucial features, such as app-store support and MMS messaging, as well as full Exchange support.
The brick-like Nokia N900 isn't exactly pocket-size. Measuring 4.4 by 2.4 by 0.8 inches and weighing 6.4 ounces, this slider phone is a little heftier than most smartphones out there. The build feels solid, however, and the display slides up easily without feeling as if it's about to snap off. The N900 is meant to be used mainly in landscape mode, which became evident when I tried to use a couple of apps in portrait mode–they didn't work. In fact, the only app that I could view in portrait mode was the phone app.
Buttonwise, the N900 is pretty minimalist. The front face has no keys–not even Talk/End keys. The top spine (when you hold the phone in landscape mode) has a volume rocker, a power button, and the camera shutter button. A hold switch, a 3.5mm headphone jack, and a stylus can be found on the right spine, while the micro-USB port is on the left. The camera lens and flash are on the back, as is a kickstand for propping up the device to watch videos.
The N900 has a gorgeous 3.5-inch, WVGA, 800-by-480-pixel touch display. Because the phone has no navigation buttons, you have to rely on the touchscreen to get around the interface. The display is resistive touch, so you have to press a little harder than you would on a capacitive-touch display. Fortunately, I found the N900's display quite responsive in my hands-on tests, though sometimes I had to tap a few times to get an application to open.
The slide-out full-QWERTY keyboard is a little cramped, as the keys are fairly close together and the bottom of the display is quite close to the top row of keys. While typing, I found my fingers knocking against the bottom of the display. The keys have a nice texture, however, and are comfortable to press. Among them is a Back key, as well as four navigational keys (up, down, left, right) for those times when you don't feel like using the touchscreen. Oddly, like the N97, Nokia has placed the space key off-center–a counterintuitive design decision that I will never understand.
I tested the Nokia N900 over T-Mobile's 3G network, and was very pleased by the overall call quality. My contacts sounded loud and clear, and they could hear me perfectly–even while I was standing on a busy street corner. Though the phone supports standard SMS text messaging, it does not support MMS photo and video messaging.
Using the N900's Maemo-based operating system entails a bit of a learning curve. As in Android OS, here you can personalize the user interface with widgets as well as with shortcuts to Web pages and apps. But out of the box, this environment isn't as user-friendly as Android. Icons for certain actions, such as adding or removing a widget from the home screen, aren't immediately clear. To add a widget, you press on the home screen's empty space, and a very small tab with a settings wheel appears at the top of the screen. Press that, and you go to the Desktop menu, where you can add shortcuts, bookmarks, widgets, and other items. To remove an app, you press on the small "X" in the corner of the app.
My biggest problem with navigating the interface was getting back to previous screens and closing out of apps. As with Windows Mobile, to close out of an open app, you have to press an "X." The "X" doesn't always appear automatically, however, and sometimes you have to tap in various parts of the screen to get it to show. Similarly, a "back" symbol only sometimes appears, and you have to tap just outside of the window for it to come out of hiding.
The Maemo platform handles multitasking beautifully, however, and can run a large number of apps at once without any signs of sluggishness. To switch to another app, you simply tap on the icon that looks like two interlocking rectangles. You'll then see a grid of small thumbnails representing the applications you have open. To go to one of the apps, click on it; to close an app, use the "X" in the corner.
Surfing the Web on the N900's browser is a smooth and speedy experience. The N900's Web browser is based on Mozilla technology, and includes support for Ajax and for Adobe Flash Player 9.4. Content-rich pages loaded quickly over T-Mobile's 3G network in San Francisco, as well as over Wi-Fi, but sometimes large images took a bit of time to load fully. You can zoom in and out of pages easily by either tapping the screen twice or using the volume rocker. The browser supports visual bookmarks (shows a thumbnail of the bookmarked page). You can also easily view all of your open pages by pressing the interlocking-rectangles icon in the corner of the display.
The N900 supports POP3 and IMAP accounts for your Web-based e-mail, as well as Exchange. Other reviewers have pointed out that the handset syncs only Exchange 2007, not 2003, so if your company hasn't updated its servers, the N900 might not be your best option.
If you're an apps person, you might want to hold off on the N900–at least for now. The Ovi Store (for app downloads) for the N900 isn't officially available as of this review, though Nokia says it will send out an update to add app-store support soon. Preloaded on the device are Nokia Maps (a great navigation app), a PDF reader, a calculator, Documents to Go, and a calendar.
The N900 handles media quite well. It plays a wide array of file types, including MP3, WMA, AAC, M4A, and WAV formats, and it supports album art and ID3 tags. You can also create playlists on the go, as well as listen to songs in shuffle and loop modes. In my tests, the audio quality was very clean, with an ample amount of volume.
Video is excellent on the N900, too. It supports AVI, WMV, MPEG-4 (and MP4), Xvid, 3GP, H.264, and H.263 video files. It even has a 3D graphics accelerator for games. When I tried it, video playback was smooth and looked stunning on the N900's gorgeous display. Also, you have no need to worry about clogging up your phone with media: The N900 has a generous 32GB of space, plus expandable storage of up to 16GB with a microSD card.
Overall, I was very pleased with the image quality from the N900's 5-megapixel camera, which has a flash and autofocus. Indoor shots were nicely lit, and colors looked accurate and vivid. Outdoor shots dazzled as well, with sharp details and no hint of graininess. The N900 has a nice variety of advanced features, such as white balance adjustment, geotagging, and exposure setting. You also get photo editing software preloaded on the device. Like other Nokia N-Series phones, the N900 has a Carl Zeiss-branded lens with a sturdy sliding lens cap.
The Nokia N900 is a powerful smartphone with many options for customization and tinkering. It has a superb browser, and the multimedia features are hard to beat. The user interface, however, can be frustrating to navigate, and consumers who are used to their smartphone's interface coming in a friendly, pretty package will likely be turned off by the N900. If you're looking for something a little more intuitive but still customizable, check out the HTC Hero or even the Motorola Droid.