Intel unveiled a trio of new Atom processors and a new chipset today. The new Intel chips will enable hardware vendors to create smaller, cooler, more power efficient netbooks and nettops (the desktop equivalent of a netbook).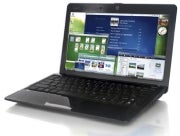 The three Atom processors include Intel's integrated graphics functionality in the CPU, as well as the memory controller functionality, which eliminates the need for one of the two chips that make up the traditional motherboard chipset. The new Atom CPU's are 60 percent smaller than their predecessors, and consume 20 percent less power–50 percent for the nettops processors.
The new processors, dubbed Pineview by Intel, and the NM10 Express Motherboard chipset, combine to form the Pinetrail platform. It also makes Intel the first to combine graphics processing with an x86 CPU–technically speaking. The resulting Pineview CPU and Pinetrail platform are not really comparable to what Intel has planned for the recently scrapped Larrabee Project, or to what AMD is working on for its Fusion processor.
At first glance, the power consumption ratings of the new processors seem to be higher. However, when you take into consideration that they now include additional functions previously managed by additional chips, the overall power consumption of the system is less.
Combined with new hardware like the Seagate Momentus Thin drives and Pulsar SSD drives that squeeze storage into 7mm of thickness, the new Intel processors and chipset are another step in the march to even smaller, cooler, and more energy efficient netbooks.
Drawing less power also means generating less heat. The new Atom processors and Pinetrail platform run cool enough that netbook manufacturers may be able to leave out the cooling fan. Combined with more energy efficient SSD drives, the resulting netbook hardware could run virtually silent and extend battery life at the same time.
Intel has already been shipping the new Atom processors and motherboard chipset to hardware manufacturers. Systems built on the new architecture will be available the first week of 2010 from a variety of vendors including Acer, Dell, Toshiba, Lenovo, and others.
The new Atom processors and Pinetrail platform let Intel end the year on an up note–barring any unforeseen revelations over the next week or so. Following on the heels of Intel's various legal issues, and the FTC filing formal antitrust action, I am sure Intel execs are happy to cap off 2009 with a successful new product launch.
Tony Bradley tweets as @PCSecurityNews, and can be contacted at his Facebook page .