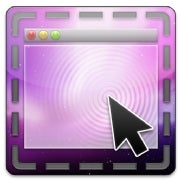 Mac users don't always like to admit it, but every now and then Microsoft has a good idea or two. One such idea is Windows 7's Aero Snap feature: Drag a window to the left or right side of the screen and it'll "snap" to fill off that half of the screen. Or drag it to the top of the screen to make a window take up the entire screen. Drag the window away from the edges and it returns to its original size.
It's a very useful feature for comparing the contents of two folders, for example, or for quickly viewing a Web browser window full-screen.
But why should Windows users have all the fun? A new OS X utility called Cinch from Irradiated Software brings this venerable feature to OS X. It works pretty much identically as Snap does on Windows: Dragging to the sides fills up half the screen, and dragging to the top fills up the entire screen.
Cinch takes a little getting used to, but it does fill a void in OS X. Mac OS X has no equivalent to Windows' Maximize feature. Sure, there's the green "Zoom" button in OS X, but what it does tends to vary. Sometimes it'll make the window fill the screen; other times, it'll make the window just big enough to fit all of its contents. But there's only one consistent way to maximize a window in OS X: Move the window to the upper-left corner of your screen, then drag the resize box to the lower-right corner of the screen. Cinch makes it possible to maximize a window with a quick, consistent gesture.
Cinch costs $7, though a free trial is available. You can download it from the Irradiated Software Web site.
It's a cinch (Get it? Aw, snap!) to follow us on Twitter @geektech.