Incredible Bookmarks adds a new toolbar to Firefox that acts like a supercharged Bookmarks Toolbar. This free add-on introduces many nifty features for displaying and managing your bookmarks.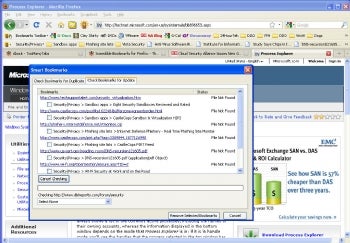 For starters, Incredible Bookmarks lets you choose which bookmarks to display at any given time on the toolbar. Using a pull-down menu, you can display all bookmarks, the regular bookmarks toolbar items, or bookmarks that match a specific search term. You can switch between folders or search terms as much as you'd like.
Although Incredible Bookmarks' toolbar can easily substitute for the regular Firefox bookmarks toolbar, it doesn't automatically replace it. You can choose to display them both, or hide the regular toolbar (via View | Toolbars) and let IB take over. You can also add additional IB toolbars, and color-code a bookmark or folder by right-clicking it in the IB toolbar and selecting "Highlight Bookmark."
If you use a bookmarks synchronization option such as the Xmarks add-on, which would normally mean having to see the same toolbar bookmarks in all browsers, IB affords a nice additional customization. If you create one bookmarks folder for items you want displayed in the toolbar for your work browser, for example, and another for home bookmarks, you can then select the appropriate folder to display in the appropriate browser. The other folder would still be there, but just not displayed up front on the toolbar.
In addition to these nice display options, you can also get rid of duplicate or broken bookmarks with Incredible Bookmarks. Pull-down options can "Check Duplicates in This Toolbar" or "Check Links in This Toolbar." To check all your bookmarks, set the toolbar to display all your bookmarks (by selecting the Bookmarks Menu) and then pick one of the clean-up options.
Incredible Bookmarks adds sophisticated new options for managing your bookmarks in an easy-to-use package. If you juggle many bookmarks (and these days, who doesn't), give it a try. A handy video at developer Visibo's site will help get you started.