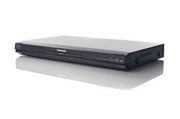 Today's Blu-ray Disc players do a lot more than play Blu-ray movies. Even so, they cost much less than they did a year ago.
Every model on our Top 10 Blu-ray Disc Players chart has an ethernet port for accessing Internet-based supplemental disc content via BD-Live. Seven of the ten support Web-based streaming media delivery.
Widgets and Web services are now a major feature of Blu-ray players. Rather than buy a dedicated box to handle streaming, you can buy a Blu-ray player that combines the pristine high-definition images of Blu-ray and the instant gratification of Net­flix On Demand, YouTube, and other Web content.
Through Netflix On De­­mand, Netflix subscribers can access their Instant Queue over their TV. Other streaming services that one or more players we tested accommodate are Pandora Internet Radio, PlayStation Network, VieraCast (which includes Amazon On Demand and Picasa Vudu), and YouTube.
You'll get far superior im­­age quality from a Blu-ray movie than from a streamed video, even if it's a high-def stream, but still the streaming options are convenient and worthwhile extras.
Every model on our chart can read digital images and music files from USB or SD Card; some can read AVCHD camcorder video and other video formats, too.
Price drops are another big development in this category. A couple of premium-priced models hit the $300 mark, and a handful come in at $250, but a typical player now costs $200.
All of the ranked models produced enticing high-def images, but we noted differences in image quality and (even more) in how the players handled standard definition. There, the Panasonic DMP-BD60K and the Sony BDP-S560 earned top honors.
Top 10 Blu-ray Disc Players (chart)