Amazon's Kindle e-book reader hit a watershed moment on Christmas Day, when, for the first time ever, customers purchased more Kindle book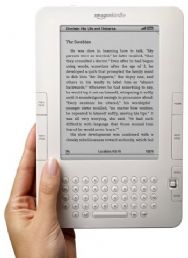 s than physical books. The company also claims the Kindle is the most gifted item in Amazon's history. These two facts were part of the online retailer's recently announced holiday sales activity.
But in typical Amazon style, the company did not provide any sales figures to back up its claims. Although Amazon did say that if you placed side by side all the Blu-ray disc players the company sold this season, the line would stretch for more than 27 miles. A mile has 63,360 inches, so I'll leave you to make your best guess.
Christmas Day Becomes Kindle Day
While it may sound impressive to say more e-books than paper books were sold on Christmas Day, I have to wonder about this claim. To me that sounds like claiming you're the most popular restaurant in town, when you have no competition for 20 miles. I'm sure lots of people found a Kindle under the tree this year, and many of them probably took their new toy for a spin online to see how it worked and ended up buying a book. But how many people out there were looking to buy a traditional book versus the volume of Kindle shoppers on Friday? I'm guessing not that many.
But Amazon's announcement about Christmas Day Kindle sales could be a sign of things to come. With other competitors like Barnes & Noble's Nook, Sony's e-reader line up and Plastic Logic's Que reader reportedly set to debut next month, we may see the e-book may take a bigger chunk out of traditional book sales by this time next year.
Amazon's Holiday Facts
Besides the Kindle, the most popular tech items sold this holiday season were the 8

GB iPod Touch and the Garmin nuvi 260W 4.3-inch GPS. The Wii Fit Plus with Balance Board was one of the most popular video game items followed by New Super Mario Bros. and Call of Duty: Modern Warfare 2.
Microsoft Office Home and Student Edition for Windows and Mac were two of the most popular software items along with Adobe Photoshop Elements 8.
The most popular cell phone was an unlocked version of the Nokia 5800 XpressMusic ($270), which could be a positive sign for the rumored Google Phone which will reportedly be sold as an unlocked device.
But back to that Blu-ray player puzzle: How many do you think Amazon sold? I'm guessing somewhere around 100,000, assuming the average width of a player is about 14 to16 inches. Here's another puzzle: Amazon said it sold enough 8GB iPod Touch devices to play 442 years of continuous music. Any guesses?
Connect with Ian on Twitter (@ianpaul).