This Festive Winter Holiday, my wife got me a shirt reading "Keep out of direct sunlight." While it might be a horrible cliché that computer types are darkness-loving trolls, clichés have some basis in truth. For those who prefer to dwell without sunlight, but maintain some curiosity about the Big Room With The Blue Ceiling, YoWindow (free) offers a chance to see the weather in your local area without actually having to find a window and look outside. This cunning screen saver gets local weather information and then draws a pretty picture of rain, snow, or sunshine, as appropriate. What could be simpler?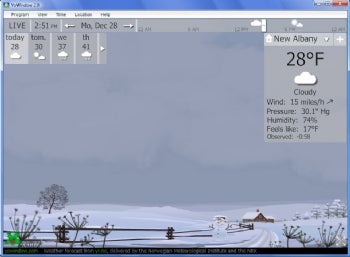 YoWindow is not feature-rich. There is only one "scene"–a simple country village–though the vendor promises more over time. There aren't many options beyond "Where do you live?" and "What time is it?" You can't even set the source for the weather information (it comes from Norway, if you care, but you probably don't). Meteorology geeks may prefer more gadget-heavy programs like Weather Watcher Live. However, for a simple, soothing, view of what that mysterious place called "outside" looks like, YoWindow does the job.
It will even show you the weather tomorrow–just click the date, and you will see the image update to the (projected) weather yet to come. The freeware version of YoWindow can show you the next three days; the $10 paid version, up to eight.
Unlike many "free" screensavers, YoWindow does not come packed with adware, spyware, browser toolbars, or annoying purple apes. The site notes that in the future, the free version may carry advertising, though it currently does not. Overall, I'm willing to replace my aging "pipes" screensaver with this one, as it will not only save my screen, it will let me know if I need to find a coat or umbrella before I've made it all the way to the door.