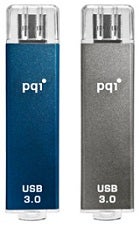 It's no secret that the capacities of portable hard drives are on the up, but what about those portable flash drives? Fear not, as flash memory maker Power Quotient International (PQI) announced this Tuesday a new sizable addition to their Cool Drive range of USB flash drives. The new drives, dubbed the U366, will make use of the faster USB 3.0 specification and will be available in three spacious variants.
The aluminium-cased U366 drives size in at 87 x 22 x 12mm. They will ship in either blue or grey color choices, and will be made available in capacities of 16GB, 32GB and even an impressive 64GB model.
By making use of the increasingly popular SuperSpeed specification, PQI's latest drives will be capable of 5Gb per-second maximum bandwidth, with read speeds of 97MB per-second also attainable – if the companies figures are to be believed.
However, if you're still stuck with a USB 2.0 set-up you don't need to feel left out, as PQI have thankfully made all of their new U366 drives backwards compatible. Of course, if you do use the drives in a USB 2.0 port, then previous maximum speeds should be expected.
Unfortunately the company has not yet provided a solid release date or a price point for the welcomed capacious flash drives, although they probably will not come cheap.
[PQI via Electronista]
Follow GeekTech and Chris Brandrick on Twitter.