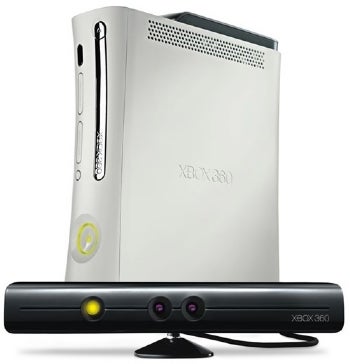 Is the following clip of someone ostensibly playing Valve's Half Life 2 on an Xbox 360 with their arms and fingers a glimpse of things to come from Microsoft's Project Natal?
In the grainy, jerky video noticed by Gossip Gamer, a player gesticulates not unlike Tom Cruise in Minority Report, signaling with his arms and flexing his digits to pan his view around the rebel research lab visited toward the beginning of the dystopian sci-fi shooter. He holds his right arm rigid, almost like a breakdancer about to do the robot, swinging it left or right and slightly up or down to maneuver the camera in turn. His index and middle fingers appear extended, gun-like, while the other fingers curl under. The motion capture device itself–presumably (though not verifiably) the Natal camera–rests on a tripod below the screen just a few feet in front of him.
At about the 0:30 mark, his left hand makes an appearance (it's hidden by his body, interposed between it and whoever's filming) and illustrates fine-motion control. His right arm aims the camera, while the left "grabs" the view and shifts it in smaller increments, allowing him to "feel around" the table and explore more carefully. It's not apparent how he's moving forward or backward, but I'm assuming that's done with the (hidden) left hand too.
Roughly 0:50 in, he interacts with a device on one of the tables by thrusting his left hand forward, as if "pressing" a button.
Assuming this footage is real and not faked, it could be from anything. Early beta, late beta, alpha demo, recent demo, etc. Again, if it's legit, it gives a broad sense of how we might interact with first-person shooters courtesy Natal when it ships this spring, though critical other elements like shooting, reloading, jumping, crouching, and switching weapons aren't displayed in the clip.
Who leaked it? Who knows. It sure looks cool. Question is, will it feel cool when you're doing all that without tactile feedback.
Follow me on Twitter @game_on