BushPilot's new wallpaper doesn't cover his screen. He asked the Answer Line forum for advice.
Windows offers several ways to display your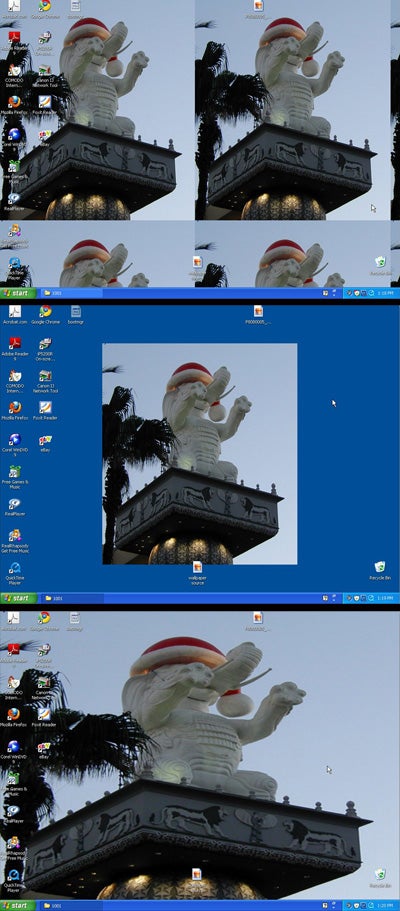 wallpaper (also known as your desktop background). You can tile the image, so that it fills the screen by repeating itself. You can center the image, leaving empty space around it if the image is too small or the wrong shape. Or you can have Windows blow up and stretch the image so that it fills the screen. (Windows 7 offers more options than these.)
If you only pick images that are the same shape as your screen and at least the same size, the options have no effect; all of these choices will result in a single image filling the screen. Only when you pick something smaller or of a different shape does it matter.
Here's how to change this setting in XP, Vista, and Windows 7:
XP Right-click the desktop and select Properties. Click the Desktop tab. If you want the image will fill the screen, select Stretch from the Position pull-down menu.
Vista Right-click the desktop and select Personalize. Click Desktop Background. Select an option under How should the picture be positioned? The first one will fill the screen with the picture.
Windows 7 Right-click your desktop and select Personalize. Click Desktop Background near the bottom of the window, sort of to the left. In the lower-left corner, you'll find a largish pull-down menu called Picture position. To fill the screen, pick either Fill or Stretch, depending on which result most pleases your eye.
Read the original forum discussion.
Add your comments to this article below. If you have other tech questions, email them to me at answer@pcworld.com, or post them to a community of helpful folks on the PCW Answer Line forum.