When it comes to embedding a watermark–a partially transparent text overlay, typically used to identify that an image is a sample, or credit the source–in digital images, almost any image editing program worth its salt can get this common task accomplished. But when you have dozens or hundreds of images that need the same treatment, sometimes it's just easier to work with a dedicated tool, such as Watermark Image.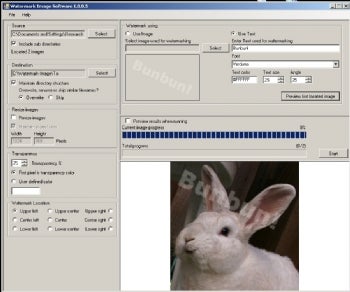 Donationware utility Watermark Image lets you watermark a single image, but it is best suited to large batches of files, where it can perform the same, repetitive operation innumerable times. Just choose a source directory (where the un-watermarked images are located) and a destination directory (where modified, watermarked image copies will be placed), customize the watermark, then let 'er rip.
If you're creating a directory full of thumbnails, the output options include the ability to resize the images; The watermark can be a previously-created image file or just text, rendered in any font available on the host PC. Choosing text colors can be, however, a bit tricky for novices–lacking a color wheel, you have to type in the [[hexadecimal HTML color codes|http://html-color-codes.com/]] manually (black, for instance, is #000000). Watermark Image also lets you see a preview of only the first image (sorted alphabetically by name) the program finds in the source directory; this may present a problem if you, for example, watermark a mostly-white image with white text.
The user interface is a bit sparse, and the options fairly limited, but Watermark Image really is just a single-purpose application that does what it says, and no more.