With its line of consumer PCs slated for rollout at the Consumer Electronics Show later this week, Lenovo has chosen to unveil its latest line-up of business computers on Monday. Ranging from the new ThinkPad Edge series for small and mid-sized businesses to new ThinkPad ultraportable and mobile workstation models for enterprises, the new line emphasizes multitouch and wireless broadband capabilities.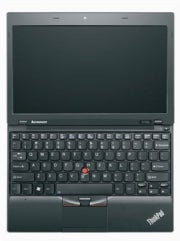 With its sleek new 13-, 14-, and 15-inch Edge models, Lenovo is taking another step beyond its traditional enterprise market. The new Edges' expanded multitouch touchpad, re-tooled keyboard, and colorful cases are features that might appeal to lots of consumers, too. But with the numbers of SMBs continuing to rise, Lenovo sees these businesses as a hefty enough market to warrant specially designed laptops.
Lenovo has redesigned Lenovo's infamous function keys for the Edge. Users will only need to use one finger to access multimedia and other functions, said Charles Sune, Lenovo's segment manager for ThinkPads, during a pre-briefing. Gone are the ThinkPad's traditional embedded number pad, along with arcane function keys such as System Request customarily used mostly by IT pros at large companies but unneeded either by consumers or most SMBs.
Sune told PC World that, in Lenovo's view, SMBs fall somewhere between consumers and enterprises in their laptop needs, with very small businesses tending to be more similar to consumers and companies with a couple of hundred employees acting more along the lines of enterprises.
Accordingly, the Edge offers options oriented to SMBs of various sizes. Much like a consumer, a mom-and-pop business with five or ten staffers might be lured more to the Edge's "heatwave red" laptop cover than to "midnight glossy" or "midnight soft black," traditional Lenovo colors that are also available for the Edge, he said. For all these color schemes, by the way, the Edge's exterior is framed by a silver band.
The Edge is also the first ThinkPad to come with AMD's dual-core processor and VisionPro graphics technology. But beyond AMD's Turion and Athlon Neo dual core processors, Lenovo is also offering the Edge with Intel Core 2 Duo ultra low voltage and standard dual core processors.
The Edge starts at $549, a higher price than many consumers would probably be willing to pay today for a notebook PC. But in addition to consumer-friendly features such as eight-hour battery life, Windows 7 optimization, Wi-Fi and optional Bluetooth, 3G and WiMax, the Edge is accompanied by other capabilities and services that most consumers wouldn't require. For VOIP-based videoconferencing, the Edge models come with Skype software, high-def speakers, high-res cameras, and microphone and camera mute keys. The laptops are also green PCs, carrying a Gold rating from the Electronic Product Environmental Assessment Tool and complying with the Energy Star 5.0 specification.
Lenovo is also providing services for the Edge such as 24/7 Priority Support, ThinkPad Protection for unexpected repair costs, and Hard Disk Drive Retention for customers who want to keep failed or damaged hard drives in order to hold on to their data.
The 13-inch Edge is immediately available, wheras the 14- and 15-inch models are scheduled to hit the streets in the second quarter, Sune noted. People will be able to buy the Edge models on Lenovo.com as well as through Lenovo Business Partners. The 14-inch version will also be for sale at Best Buy retail stores.
The Edge SMB announcement is accompanied by the introductions of four new PCs for larger businesses: the ThinkPad X100e, touted as Lenovo's first "professional grade" ultraportable laptop with a sub-$500 pricetag; the T410s, for "extremely mobile" users; the T410 and T510, for mainstream business users; and the W510 mobile workstation, for users in graphics-intensive industries such as CAD, photography, and oil and gas exploration.
Weighing in at under 3 pounds, the X100e also comes with AMD Vision Pro graphics technology, along with a choice of AMD Athlon Neo single and dual core processors and Turion dual core processors. Other features include an 11.6-inch high def display, a multitouch touchpad and trackpoint, and an ISO full-sized keypad, also freed from rarely used Lenovo function keys like System Request and Lenovo's traditional embedded number pad.
The new 410s and W510–both updates to earlier Lenovo models–offer new and larger Delete and Escape keys. The new 410s comes with Nvidia switchable graphics with 512MB of VRAM. (Nvidia's switchable graphics supports the ability to switch between two graphics chipsets, one integrated and the other discrete, letting users choose between longer battery life and better 3D performance.) W510 adds Lenovo's SimpleTap application for easier touchcreen navigation and an optional color calibrator for more accurate color display.
The T410, T510 and W510 laptops also come with new nine-cell slice battery for up to 22 hours of battery life. Optionally available is a 3G connectivity module leveraging EV-DO and HSPA wireless networks with Qualcomm Gobi 2000 technology.
All four of these mobile PC models are scheduled for availability this week through Lenovo.com and Lenovo Business Partners, for pricing starting at $449 for the ThinkPad X100e, $999 for the T410 and T510, and $1,599 for the W510.
2010 is already shaping up to be a big year for small-business technology. Although Lenovo first started specifically targeting some laptops at SMBs more than a year ago, competitors such as HP, Dell, and Acer have been doing the same.
Jacqueline Emigh is a journalist with over 15 years' experience covering the computer and electronics industries. She can be reached by e-mail at JacquelineEmigh@yahoo.com .