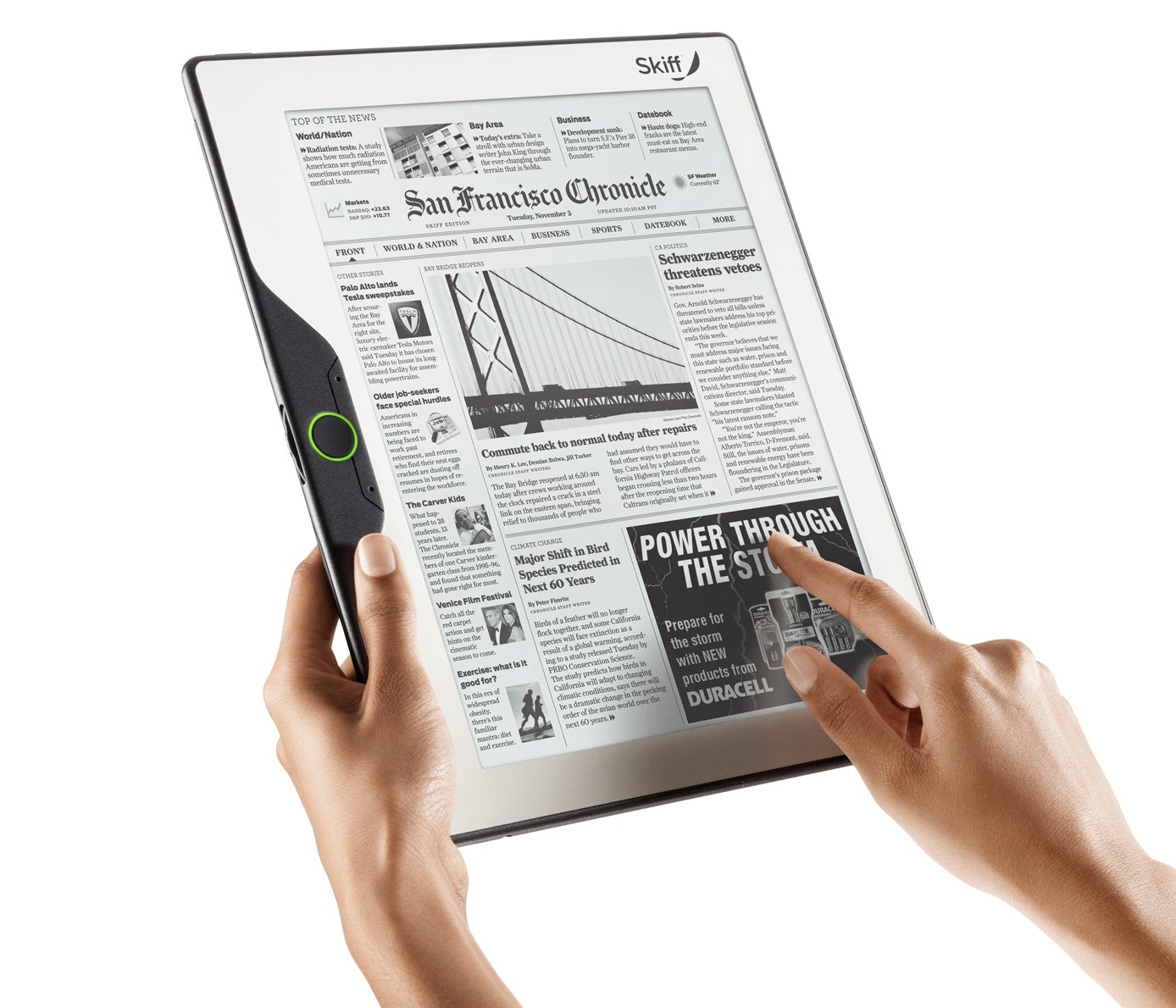 Editor's Note: This report has been updated to clarify that only the Skiff display is flexible.
The Hearst publishing company's e-reader strategy will take a big step forward at this week's Consumer Electronics Show in Las Vegas, when the unique Skiff Reader makes its debut. Skiff, a Hearst-backed startup previously known as FirstPaper, will demonstrate a flexible, large screen e-reader optimized for newspapers and magazines. The Skiff Store will deliver the digital content via the Sprint 3G wireless network.
The Skiff effort is intriguing for a number of reasons. First, it's a cornerstone of Hearst's ambitious plan to lure back paying subscribers, many of whom have abandoned printed publications for free Web content. Second, Skiff represents a new challenger to existing (and future) e-readers, including the Amazon Kindle and Kindle DX, Barnes & Noble Nook, Sony Reader, and a mysterious tablet that Apple may or may not announce later this month.
Not Your Average E-Reader
The Skiff Reader offers something the other e-readers don't. As the photo below illustrates, the e-reader's display (but not the device itself) is quite flexible: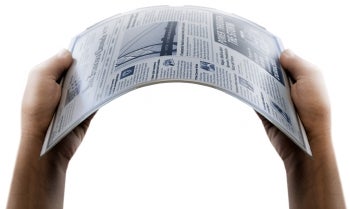 How does it pull off this contortionist's trick? The Skiff's 11.5-inch touchscreen, unusually large for an e-reader, utilizes a thin, bendable sheet of stainless steel foil rather than glass-based displays favored by other e-readers. Designed by LG Display, the Skiff screen is built to take the wear and tear that portable tablets would likely endure–in the car or classroom, on the train or bus, at an airport terminal, and just about anywhere else you'd take a newspaper or magazine, including the john (but please wash your hands).
Drawbacks? Well, there's no color, so the Skiff Reader won't double as a media player. The display does offer an impressive resolution of 1200 by 1600 pixels, however. The device is very portable, too, weighing just over a pound and lasting about a week between charges, the company says.
"The Skiff Reader's big screen will showcase print media in compelling new ways," said Gilbert Fuchsberg, president of Skiff, LLC in a statement. "This is consistent with Skiff's focus on delivering enhanced reading experiences that engage consumers, publishers and advertisers."
Sprint will offer the Skiff Reader at more than 1000 of its U.S. retail locations later this year, but pricing and other details are still a mystery. Users will be able to purchase newspapers, magazines, books, blogs, and other content from multiple publishers, according to Skiff officials. Layouts will likely recreate a print-style look, if images supplied by Skiff are any indication.
Content publishers will probably offer subsidized Skiff devices to consumers who sign up for long-term subscriptions, similar to the handset model favored by U.S. wireless carriers. Consumers will be able to read Skiff content on other devices too, including PCs and smartphones.
Can the Skiff business model save newspapers and magazines? And will the Skiff Reader's flexible display survive the trials of daily use?
Indeed, the rise of e-readers and tablets is quickly turning into one of the most compelling tech stories of 2010.
For more up-to-the-minute blogs, stories, photos, and video from the nation's largest consumer electronics show, check out PC World's complete coverage of CES 2010.
Contact Jeff Bertolucci via Twitter (@jbertolucci) or at jbertolucci.blogspot.com.