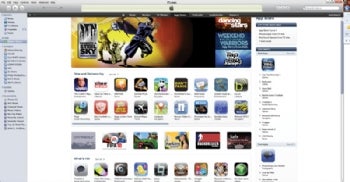 Holy App Store! Apple is bragging that more than 3 billion apps for its iPhone and iPod Touch have been downloaded since the store opened on July 10, 2008. That's a lot of Super Monkey Balls, Facebook, and Google Earth Apple app downloads.
It was only last April that Apple said it had sold one billion apps. At that time, Apple said more than 37 million devices were running Apple's mobile operating system – 21 million iPhones and more than 15 million iPod touches (with some 35,000 apps available in the store).
Apple's CEO Steve Jobs released a prepared statement Tuesday, boasting: "Three billion applications downloaded in less than 18 months–this is like nothing we've ever seen before.. The revolutionary App Store offers iPhone and iPod touch users an experience unlike anything else available on other mobile devices, and we see no signs of the competition catching up anytime soon."
Apple says the iPhone and iPod Touch are now available in 77 countries, and apps are available in 20 categories, including games, business, news, sports, health, reference and travel.
The app store has not just been a phenomenal success for Apple, but also for app store merchants. Just last month, the creators of "Tap Tap Revenge" (among other titles) said they take in $1 million in sales per month from the App Store. And, since Apple reportedly takes a 30 percent cut from any revenue generated by an app sold through its App Store, that means the company is raking in huge profits, too.
However, despite its overall success, Apple's App store has faced criticism from developers who say the approval process for selling apps through Apple is cumbersome and arbitrary. The company has also come under criticism after releasing and the retracting applications which have been considered offensive.