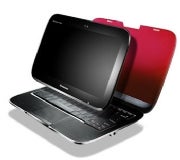 Lenovo laptops are great, but they're boring, right? Plain black slabs that epitomize function over form. Well, the company is coming out of its shell with the designs of its new Skylight netbook and IdeaPad S10-3 tablet.
The Skylight is a netbook based on a 1GHz ARM Snapdragon processor, promising 10 hours of battery life and sporting both 3G connectivity and Wi-Fi. The company bills this as a "smartbook," a growing term for netbooks that behave something like big, powerful smartphones but don't necessarily run Windows or other standard PC operating systems.
The IdeaPad S10-3T is a new tablet PC that will start at a very affordable $499 and run for about four hours on a 4-cell battery. Think of it as a netbook tablet. Perhaps more interesting is the IdeaPad U1, a hybrid tablet/notebook that will start at around $1,000. When the two pieces are connected together in notebook form, the U1 runs Windows 7 using an Intel Core 2 Duo SU processor. When seperated and used as a tablet, the screen is powered by a Qualcomm Snapdragon processor and a custom Linux OS.
For more on these new products, check out our news story.
For more up-to-the-minute blogs, stories, photos, and video from the nation's largest consumer electronics show, check out PCWorld's complete coverage of CES 2010.