Google today announced the Nexus One, a new HTC phone that showcases the latest version of the Android mobile operating system–Android 2.1. Google also announced today a new smartphone marketplace where consumers can buy phones and service plans, and get setup and support information for Android devices.
The Nexus One is $529 when purchased directly from Google, or $179 from T-Mobile with a two-year contract.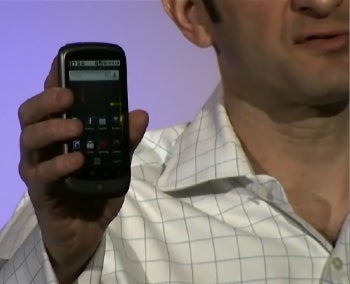 The Nexus One phone was designed by HTC, with input from Google's engineers. In its specifications, much of the speculation before today was correct. These specs include:
The Nexus One has the thickness of a No. 2 pencil.

Android 2.1 operating system
3.7-inch display
1GHz Snapdragon processor from Qualcomm (very fast)
480 x 800 OLED display (for brilliant colors and deep contrast)
5-megapixel camera with LED flash
Audio stereo Bluetooth
Active noise cancellation using two microphones
Live-action wallpaper that responds to your touch
Google Maps navigation
Improved Facebook integration
The Nexus One features a number of software and user interface niceties, but these look like natural, incremental improvements on the Android OS. Nothing revolutionary here, as some had expected by all the hype Google had generated around this event.
Perhaps the coolest one is the phone's voice-to-text capability. Not only can you perform text searches, but you can now populate any text field in the UI by talking. This is huge, given the size and input limitations of smartphones. It's far easier to talk to your phone than it is to type on the screen, especially when you're trying to do something else, like driving (of course, we don't recommend driving and typing at the same time).
The Nexus One also features a cool new Google Earth app for mobile. The hi-res images of earth looked fantastic on the Nexus One's screen. The app also responds to voice commands, allowing a user to speak a location, prompting the app to move to that location on the map.
The phone also features new UI innovations for browsing pictures and organizing apps on the home page. And, as expected, the Nexus One features interactive wallpaper that moves by itself or in response to user screen touches.
All of the software innovations seen on the Nexus One are part of the Android 2.1 operating system, so they will all migrate to other Android phones when those phones have their software upgraded to 2.1 in the coming months. Google would not be more specific on when this would actually happen.
New Marketplace
As noted, Google today moved from just being a maker of operating systems and other software to being a retailer of mobile phones and service plans.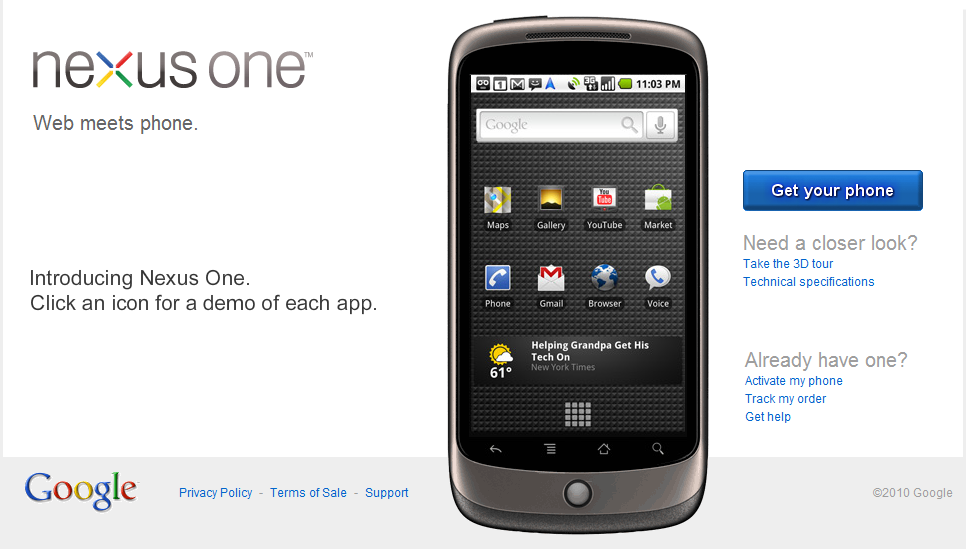 The Google phone marketplace now sells only one phone, the Nexus One, and one service plan, from T-Mobile, but Google says it will add more devices and carriers in the coming months. For instance, smartphone buyers will be able to get a Nexus One that runs on the Verizon network this spring, and Europe's Vodaphone is on board for that time frame as well.
Google says it wants to provide a place where consumers can go to easily shop for smartphones and service plans, and get support on setting up and using new phones.
One interesting aspect to all this is the reaction of other handset makers that have adopted, and invested millions in, the Android OS for their phones. With the perception that the Nexus One is the "Google phone," the new phone could tempt smartphone buyers away from other Android phones, like the Motorola Droid, for instance. And for good reason: the Nexus One is the only phone on the market with Android 2.1. Why would I buy a Droid now, when the Droid has a lesser OS and a slower processor?
Google seems to have anticipated this tension. Motorola CEO Sanjay Jha was present on the stage today, and said his company does not see the new Nexus One, or the new Google marketplace, as a threat. "We just see this as another way at getting to consumers," he said. "I don't see it as a threat; this is potentially an expansion to the marketplace."
The new Android OS will eventually come to other phones. HTC CEO Peter Chou says Android 2.1 will soon come to its Droid Eris phone. And the Android 2.1 OS will eventually come to the Motorola Droid too, but it's not clear if it will be weeks, or months, before that update happens.