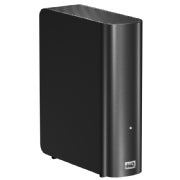 The Western Digital My Book 3.0 desktop external drive will be one of the first to market with the new SuperSpeed USB 3.0 interface. Announced today, the 1TB version is available for sale today; the 2TB is due later this week. So does USB 3.0 deliver on its promises? We got the 1TB My Book 3.0 into the PC World Lab, and our early results look very promising.
As an interface, USB 3.0 carries a lot of promise: Theoretically, the maximum performance of USB 2.0 was 480 Mbps, while that of USB 3.0 is 4.8 Gbps–a ten-fold theoretical increase. But in reality, the limitations of the drive itself–currently at 3.0Gbps–creates another bottleneck in the USB 3.0 environment. As such, industry experts are saying we can expect to see approximately a three-fold increase in real-world performance.
In the PC World Lab's tests, those estimates were borne out. We compared the My Book 3.0 as tested over USB 3.0 and USB 2.0, and compared it to a Western Digital My Book Home Edition 2TB tested over eSATA.
Western Digital is shipping the drive on its own, and in a kit with a PCIe add-in card-necessary because USB 3.0 is only now showing up in motherboards (Gigabyte already announced a motherboard with USB 3.0 certification). You'll be paying a premium for the extra speed, though-the 1TB My Book 3.0 will cost $200 with the card ($20 less without the card). You can buy the My Book Home Edition 1TB with USB 2.0 and eSATA-which performed competitively with USB 3.0 in our tests-for about $150.
Tested with its included adapter card, the My Book 3.0 breezed through reading a folder of 3.7GB of files in just 40 seconds; that same folder took 133 seconds for the drive to read over USB 2.0. To write that folder of files, it took 53 seconds over USB 3.0, and nearly three times that–151 seconds–over USB 2.0. Reading a single 3.7GB file, the drive required 28 seconds over USB 3.0, to 122 seconds over USB 2.0; writing that same file took 34 seconds over USB 3.0, to 127 over USB 2.0.
Interestingly, those results were in line with what we saw when compared with the Western Digital Home Edition tested over eSATA. This is likely because of the theoretical maximum ceiling of the drive inside the chassis, a SATA-300 bare drive that tops out at 3Gbps. According to Conrad Maxwell, chairman for the SATA-IO Marketing Work Group, this delta should widen once SATA 6Gbps drives go into external storage.
For more up-to-the-minute blogs, stories, photos, and video from the nation's largest consumer electronics show, check out PC World's complete coverage of CES 2010.