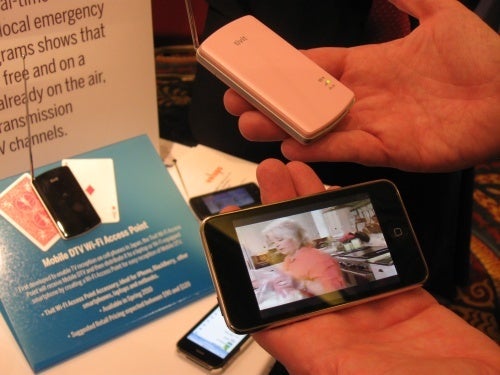 Ever wish you could catch the local news on your commute home from work? Or how about watching a sports game in real-time on a long car trip? The Tivit lets you watch live broadcasts on-the-go from the device you never leave home without–your smartphone.
When television stations nationwide switched to broadcasting exclusively in a digital format last June, the possibilities for live, local TV on-the-go opened up. From netbooks with equipped with Mobile DTV to cell phone prototypes, consumers will soon have a variety of ways to access real-time TV anywhere.
The Tivit is compatible with the third-gen iPod Touch, BlackBerry devices with Wi-Fi connectivity (sorry BlackBerry Storm and Tour users) and Motorola Android phones. The Tivit is pretty small, measuring 2 by 3.5 by 0.5-inches thick (about the size of a deck of cards), but it still means lugging around an extra device. Fully charged, the Tivit can run for three hours of continuous TV reception.
The Tivit will cost $120, which seems a bit high right now given you can only get about 30 or so channels. Hopefully by Spring when the Tivit goes on sale, there will be a fuller selection.
For more up-to-the-minute blogs, stories, photos, and video from the nation's largest consumer electronics show, check out PC World's complete coverage of CES 2010.