Aside from offering witty puns for names, LaCie's new CooKey and WhizKey USB thumb drives offer storage capacities ranging from 4GB to 32GB, and up to 4GB of online storage via LaCie's Wuala service.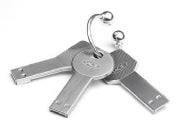 These key-shaped USB 2.0 thumb drives borrow from the the design of the LaCie iamaKey, and are made of metal, as opposed to plastic. One advantage to this design, aside from looks, is that you have no caps to lose or misplace.
The big feature, of course, is the included Wuala online storage service. All new LaCie USB keys come with a two-year, 4GB subscription to Wuala, and hard drives will include a one-year, 10GB subscription. You'll be able to buy additional online storage space, or "trade" storage space on your computer for cloud storage.
For example, if you trade away 20 GB of free hard disk space on your PC, you can get up to 20GB of additional online storage space. To use the storage trading feature, your PC would have to be online for at least 4 hours every day. See Wuala's site for more details on how this feature works.
The CooKey and WhizKey come in 4GB, 8GB, 16GB, and 32GB sizes, and start from $20.
For more up-to-the-minute blogs, stories, photos, and video from the nation's largest consumer electronics show, check out PC World's complete coverage of CES 2010.
When you purchase through links in our articles, we may earn a small commission. This doesn't affect our editorial independence.