Here's the first CES gadget I'm seriously considering buying as soon as it goes on sale: The Logitech Speaker Lapdesk N700. Not only does it promise to keep my lap cool when I'm using my notebook–it also features integrated speakers that are likely to sound a lot better than the ones in my portable.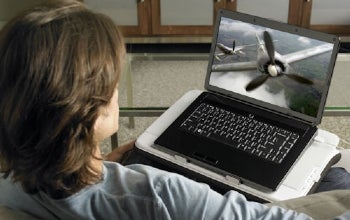 Heat-dissipating pads aren't new–and they're a must for anyone who habitually uses a notebook on the couch or in bed (hey, you know you've been there). The N700 also isn't the first pad to improve on the basic concept by adding a built-in fan that sends cool air wafting through a ventilated surface underneath the laptop (which typically sits on slightly raised runners on either side of the vent). But I've never before run into a pad with integrated speakers.
Even cooler (so to speak): The fan draws power from the notebook through the same USB cable that channels audio to the N700's integrated speakers. Now, I'm no audiophile, but it's clear we're not talking boom box here: According to the spec sheet on the Logitech web site, these are 2-inch " high performance neodymium drivers with maximum 2 W [watts] power" and "stereo and bass reflex performance." Still, considering the pathetic audio quality of most notebook speakers, I'd bet the N700 will produce better sound than most laptops can manage.
You will need a free USB port for the cable, which might be an issue for some people. Logitech says the N700 is designed for notebooks with displays of up to 16 inches, running Windows XP, Vista, or 7, or the Mac OS (version requirements not specified).
And you'll have to wait a bit: Logitech says it expects to ship the Speaker Lapdesk N700 in February (March in Europe) for a suggested retail price of $80.
For more up-to-the-minute blogs, stories, photos, and video from the nation's largest consumer electronics show, check out PC World's complete coverage of CES 2010.