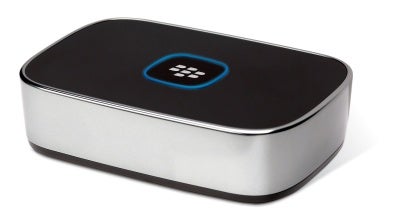 At last year's Spring CTIA, Research in Motion launched three multimedia-centric accessories to challenge the BlackBerry's reputation as a strictly business smartphone line. RIM is returning to its enterprise roots, however, with the BlackBerry Presenter, a mobile accessory that delivers Microsoft PowerPoint presentations wirelessly directly from your BlackBerry.
This isn't a pico projector; you must have a projector or monitor available in order to display your presentation. The Presenter is targeted toward frequent business travelers by giving them the ability to show presentations on the fly without having to lug a laptop around. It is an interesting idea, and I understand the logic behind it, but a pico projector makes a lot more sense in this scenario. With attachable pico projectors, you don't have to rely on a laptop or a tabletop projector. On the other hand, pico projectors don't exactly have the best image quality nor do they display very large images–not exactly suitable for a large boardroom.
The Presenter has some handy features like freeze and loop modes, PowerPoint animation and transition support and compatibility with NTSC and PAL video formats. It also comes with a lined carrying case so it won't get smashed up in your bag while you're moving from conference room to conference room.
Pricing and availability for the Presenter has not yet been announced. Check our CES 2010 page soon for the hands-on review of the Presenter in action.