Buzzing above the heads of marveled, camera-snapping media representatives at CES Tuesday was a weird looking, smooth-flying toy helicopter from Parrot that can be controlled with nothing more than an iPhone or iPod Touch and appropriate software.
The AR.Drone, a four-rotor "quadricopter" which is controlled by Wi-Fi signals, includes wireless cameras that can stream video to a iPhone or IPod Touch, thus allowing you to use your actual surroundings as "targets" in a "augmented reality" (that's what the AR stands for) video game. Want to take out those mean goldfish? You can hover the copter nearby, focus on them with the wireless cameras, target the dangerous beasts and "fire" away.
The copter, made of carbon fiber and PA66 plastic, can be used outdoors with the rotors unprotected or indoors with a shield which protects and allows the copter to bump gently against obstacles—like unwary people—without damaging the rotors.
The quadricopter is controlled by accelerometers and an embedded Linux platform originally designed for mobile phones, according to Parrot. The open-source platform is being made available to software developers at CES, the company said. In unveiling the AR.Drone, Parrot said that software for controlling the copter would be available on a number of platforms, not just the iPhone and iPod Touch.
At CES Unveiled, a press-only event, the purple and black AR.Drone buzzed around near the main entrance, drawing a steady stream of wide-mouthed still and video photographers. People were able to walk fairly close to the unit, which was able to hover solidly in a single position and then fly off smoothly. The AR.Drone has a top speed rating of about 11 mph and weighs 12.7 ounces without the protective hull and 14.1 ounces with it.
The unit runs on a necessarily lightweight, three-cell, 1,000 mAh lithium polymer battery. It has a 15-frame-per-second (fps) front camera as well as a high-speed (60fps) vertical camera that looks straight down. The four 15-watt rotors spin as fast as 1,500rpm.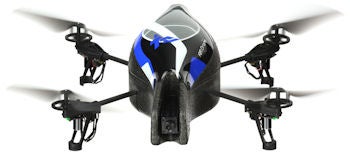 Parrot is better known for its Bluetooth devices such as wireless stereo speakers and handsfree automotive gadgets. It bills the AR.Drone as the "first helicopter with automatic flight stabilization."
The unit will be available later this year, the company said. Pricing has not been set.
For more up-to-the-minute blogs, stories, photos, and video from the nation's largest consumer electronics show, check out PC World's complete coverage of CES 2010.