Ever wanted a simple way to access your home or office servers remotely? If yes, then look no further than the new myDitto system from Dane-Elec. The consumer electronics manufacturer unveiled the novel myDitto cloud-storage solution yesterday, and the anticipated device has already been crowned the winner of one of this year's CES Innovations Award.
The straightforward device allows it's users to access a myDitto server remotely just by inserting the included USB key into any Windows, Mac or Linux computer. Dane-Elec has claimed that even a novice computer user could be set-up and connected in less than five minutes. Once connected the user will be able to access any of their myDitto server files remotely, with no configuration required at all.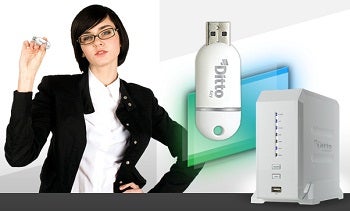 Dane-Elec also specified that the myDitto USB key is secure, not only due to the password and authentication in place, but also due to the myDitto software not being stored on users local computers, removing any potential security threats.

If the subscription-free myDitto system is as simple as Dane-Elec is claiming, then this would seem like an ideal way for the not so tech-savvy to be introduced to networking. For those already clued up, Dane-Elec seem to be offering a super simple plug-and-play way to access your files, fast.
The product, which is being demoed at this week's Consumer Electronics Show is due to hit stores this March for $249. Your dollars will get you the 1TB myDitto server, and in addition two myDitto USB keys.
Follow GeekTech and Chris Brandrick on Twitter.
For more up-to-the-minute blogs, stories, photos, and video from the nation's largest consumer electronics show, check out PC World's complete coverage of CES 2010.