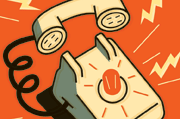 I used FileDen's file-hosting and online-storage service for about a year. Then I realized that I could save money by getting my own Website to host files. So I transferred my files to the new site and changed my links. However, I forgot to cancel the FileDen service. After PayPal notified me that my annual $49.95 subscription had been renewed, I canceled it, but three weeks later I still haven't received a refund. I can't find a telephone number or e-mail address on FileDen's site. I've sent several messages through their "Contact Us" page and written to the addresses I found within PayPal, but haven't received any response. Can you help?
Joan Fischer, Reinholds, Pennsylvania
OYS responds: Fischer filed a claim with PayPal, but the online payment service denied it, stating that "PayPal's Buyer Complaint Policy applies to the shipment of goods but not to disputes about merchandise quality." After we contacted FileDen about Fischer's problem, the company's CEO told us that when customers cancel their subscriptions, FileDen doesn't offer a refund for the remaining time unless the customer complains of a valid service problem (excessive downtime, for example), or the customer requests a refund within 30 days of signing up. However, as a goodwill gesture he refunded Fischer's subscription fee.
It's easy to forget about subscriptions that renew automatically. We recommend keeping track of renewal dates. A month before each date, consider whether to continue the subscription or to cancel it. If you decide to cancel, you'll have plenty of time to notify the company. If you don't get a response, be persistent. You may need to say–politely but firmly–that you'll involve a third party such as the Better Business Bureau if the company doesn't reply in a timely manner, and that you'll dispute the charge if your subscription is renewed despite your request to cancel.
Missing Modular Cables
Daniel M. Golding of East Greenwich, Rhode Island, contacted us when he couldn't get some cables back. A Cooler Master power supply he'd bought online broke after about six weeks, so he returned it. Cooler Master sent him a refurbished unit, which he says works fine, but the company failed to return most of the modular cables that it had asked him to send in with the dead unit. Golding contacted Cooler Master several times and was told, twice by chat and twice by phone, that his cables would be returned–but they weren't.
After we contacted Cooler Master, a representative had the cables shipped to Golding right away. She wanted to know the names of the reps he had spoken to before, but he didn't have that information.
We recommend that you write down the names of any company representatives you speak to, chat with, or get e-mails from. Also ask if they have a direct line. If you need to contact the company again, try to follow up with the same person; if that isn't possible, at least you can identify who gave you the instructions or promises.
Do you have a problem with a hardware or software vendor involving customer service, a warranty, a rebate, or the like? E-mail onyourside@pcworld.com. We can't address every issue, but we will try to handle those of greatest interest.