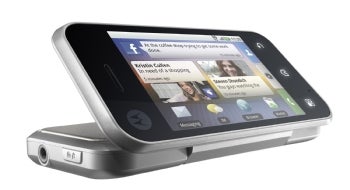 Motorola will introduce more Android handsets as the company aims to offer an array of devices based on the mobile operating system, each targeting different segments of the consumer market, the CEO of Motorola's handset business said Wednesday.
Backflip, Motorola's latest Android handset, has a 3.1-inch touchscreen and a keyboard that can be folded back behind the screen. The handset's unique folding design allowed Motorola to add a bigger keyboard than would otherwise be possible, said Sanjay Jha, co-CEO of Motorola and CEO of the company's handset division, speaking at a press conference ahead of the International Consumer Electronics Show in Las Vegas.
"A first quarter launch is what we're hoping for," Jha said, adding that the handset will be made available through operators around the world.
The Backflip has a small touchpad located behind the screen that allows users to navigate by touch without their fingers obstructing information displayed on the screen. Motorola plans to release APIs that will hopefully permit developers to use this touchpad in creative ways, Jha said..
Android helped revive Motorola's struggling handset business, thanks to the success of the Cliq and Droid handsets it introduced late last year. Motorola hopes to build on the success of those devices with more handsets designed to cater to requirements of different customer segments at different price points, Jha said.
Among the other Android handsets that Motorola has developed are two models that will be released in China: the MT710 Zhiling, which China Telecom will start selling on February 15, and the XT800, a handset designed for China Mobile that includes support for TD-SCDMA, China's homegrown 3G standard.
In addition to the Backflip, Motorola also announced that it will add support for Adobe Flash 10.1 to its Android handsets with a future software update, offering users access to a wider array of Web content from their mobile phones, Jha said.
He did not say when Motorola users would receive the software update with Flash 10.1 support.
For more up-to-the-minute blogs, stories, photos, and video from the nation's largest consumer electronics show, check out PC World's complete coverage of CES 2010.