A prototype of HP's rumored touchscreen tablet PC made a brief appearance at Steve Ballmer's keynote presentation at CES. The tablet, which hasn't yet been named, will run Windows 7 and hit the market later this year. Video after the jump.
Microsoft demonstrated the HP tablet alongside tablets from Pegatron and Archos. Ballmer didn't spend too much time demonstrating the HP tablet, and if you were expecting something completely groundbreaking, you may be disappointed. The HP tablet demonstrated during the keynote is not the Courier tablet. Instead, it's a single-screen slate PC that runs Windows 7. That said, it does have multitouch, according to a video from HP:
Steve Ballmer didn't mention any specs or other information on the tablets, but we'll learn more details about the HP tablet later this year.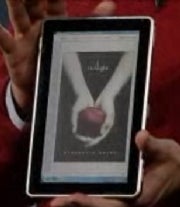 From what we could glean from the keynote, the HP and Archos tablets look to be around 9.6 or 10 inches. Ballmer showed the HP tablet running Amazon's Kindle for PC software, therefore using it as an e-book reader. Ballmer used it in both portrait mode (as an ebook reader) and landscape mode (to play a video); when he switched between the two,it automatically switched orientations, so it has an accelerometer built-in.
Personally I'm not terribly impressed by what we saw about the tablet–I don't think mouse-driven interfaces like Windows (or Mac OS X) work very well with touchscreens–but we likely didn't see the whole thing. It's pretty likely, judging from past history and from HP's video, that HP will bundle something similar to its Touchsmart software package.
For more up-to-the-minute blogs, stories, photos, and video from the nation's largest consumer electronics show, check out PCWorld's complete coverage of CES 2010.