AT&T is embracing the Google Android and Palm WebOS operating systems–adding a total of seven new handsets in 2010 built on the new mobile operating systems. With speculation that its iPhone exclusivity will soon end, AT&T is expanding its portfolio, but AT&T is at a disadvantage and it may be too late to start hedging bets.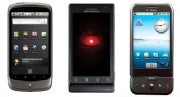 AT&T announced that it will be launching five Android-based handsets in the first half of 2010, completing Android's invasion of all four major wireless providers in the United States. Actual details and specifications are scarce, but AT&T did reveal that it will carry a device from Motorola with the MotoBlur interface, a device from HTC, and it will be the first carrier in the United States to offer the Android-based Dell smartphone.
There were even fewer details shared regarding the addition of devices built on Palm's WebOS. Those mobile handsets may not make their AT&T debut until the second half of 2010. PC World's Ginny Mies speculates that the devices may simply be GSM-enabled versions of the Palm Pre and Palm Pixi, but that Palm may unveil more about the relationship at its CES event today.
While it may not seem like it based on media coverage, AT&T does offer an array of smartphones and feature phones beyond Apple's iPhone. The HTC Pure and the LG eXpo are two examples of slick Windows Mobile 6.5 devices offered by AT&T. And, of course, the BlackBerry Bold is a mainstay for the carrier's business customers.
But AT&T has seemed like a one-and-a-half-trick pony for a couple years, banking on the iPhone and a handful of Windows Mobile and BlackBerry devices. The carrier has been reluctant to take on emerging smartphone platforms like Android and WebOS, most likely due to its arrangement with Apple, or possibly out of concern that it would cannibalize iPhone sales.
That marriage between AT&T's wireless service network and Apple's iPhone has been a double-edged sword for both AT&T and Apple, though, and when the marriage eventually ends Apple will get the home, the kids, and the dog while AT&T will have to go out and make new friends to catch up with its competitors.
As popular and successful as the iPhone has been, analysts have prodded Apple to end its exclusivity with AT&T, claiming that it could double iPhone sales. As satisfied as users are with the iPhone as a device, that satisfaction could go up significantly if the iPhone were available from wireless providers other than AT&T.
AT&T has been saddled with a variety of complaints about its service and capabilities–mostly from iPhone subscribers. There has been some speculation that some of those issues may actually be the result of an engineering flaw in the iPhone, rather than a deficiency on AT&T's side, but Apple has a Teflon reputation while AT&T has repeatedly alienated its customers.
How does that impact Apple and AT&T now? Well, if analysts are right, Apple can double sales and extend the reach of its smartphone empire by ending exclusivity with AT&T and distributing the iPhone through additional carriers, like Verizon or Sprint.
AT&T is left playing catch-up, though. AT&T, whether a result of iPhone subscribers, its own network issues, or a combination of both, is left with a tarnished reputation. The Palm WebOS party has already begun, and the Android invasion is in full swing.
AT&T is still the second-largest wireless provider in the United States based on total subscribers, though. The additional variety of platforms and handsets will be a welcome addition for AT&T customers, but AT&T got the short end of the iPhone stick and will be paying for its alliance with Apple for a while.
Tony Bradley tweets as @PCSecurityNews, and can be contacted at his Facebook page.