Apple has put to use its acquisition of the Lala service from late last year, now allowing 30-second song previews in the Web-based version of the iTunes Charts. The quietly-launched feature completes the experience of the iTunes Web preview, initially launched in November 2009.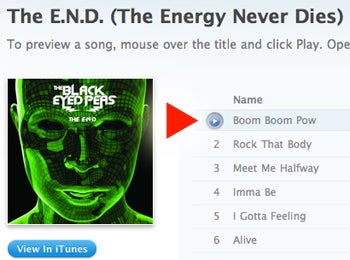 Up until now, the browser-based iTunes Charts lacked the possibility to preview a song before purchase; to do so, you had to open the iTunes software. But the new song previews allow users to listen to samples encoded at 44.1 AA 300+ kbits/second using QuickTime.
To check out the new feature, you can head over to iTunes Charts and click on an album. From there, you just have to hover over a track and a small button will let you listen to 30 seconds of the selected song. You can also view the song in iTunes, from where you can purchase it.
In December 2009, Apple purchased the Lala music streaming service for a reported $85 million, beating Google's bid for the service. But Apple's acquisition left many wondering how the Cupertino company would integrate Lala into iTunes.
Many speculated that Apple could use Lala for an upcoming Web-based version of iTunes, which would store your music purchases online rather on a computer. The song previews introduced today could signal the beginning of such a move.
Other possible ways of integrating Lala into iTunes were highlighted by my colleague Paul Suarez, such as cheaper prices and streaming options, full song previews or Genius-style radio stations in the iTunes desktop software.