Nexus, oh Nexus, you sultry little vixen. You've had the Web in a tizzy ever since you showed your sleek and slender form to the world this week. Mind you, not everyone's drooling over your silky smooth curves — plenty of people are bashing your brain, not to mention that glowing jewel you wear around your waist — but you've certainly gotten everyone talking.

Love it or hate it, Google's Nexus One phone is here to stay. And while much of the device's appeal comes down to personal preference (also known as the "Android vs. iPhone personality factor"), there are some things that can be objectively assessed. One of those is cost — and it's a contest the Nexus One easily wins.
Google's Nexus One: A Cost Comparison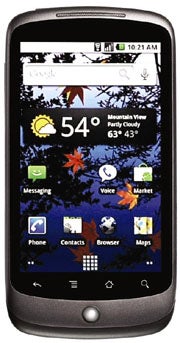 I know, I know: We've all seen the price tag by now. But we're going to dive deeper than that; we're going to look at the actual total cost of ownership — what you'll pay after owning the phone for a couple of years. And you might be surprised to see how brutally Nexus One beats the competition.
A brand new unlocked Nexus One, without a contract, will run you $529 at Google's new Android phone store. Right now, for all practical purposes, the phone works only on T-Mobile within the U.S. So let's assume you grab the carrier's $79.99-a-month unlimited talk/text/Web plan, which is currently available without an annual contract.
For consistency in our comparisons, we'll say you're going to use the Nexus One for two years. Add up the phone's cost plus the plan over 24 months, and your wallet is now $2448.76 lighter.
An iPhone 3GS, on a comparable unlimited AT&T plan, would run you $3798.76 over that same two-year time span. A Motorola Droid, on Verizon's unlimited plan, would also cost $3798.76. It all comes down to the carriers' plans: Both AT&T and Verizon charge almost double what T-Mobile does for unlimited talk, messaging, and data service. It's all part of the deal, and it's all money of your pocket.
All considered, then, the Nexus One — even with the unsubsidized handset pricing — ends up costing you $1350 less than its contemporaries.
It's a shame it has that one fatal flaw.
JR Raphael is a PC World contributing editor and the co-founder of geek-humor site eSarcasm. Check out his new official Facebook page: facebook.com/The.JR.Raphael