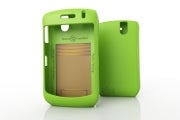 The jury's still out on whether the radiation cell phones emit can cause cancer, but if you're nervous and own either an iPhone or a Blackberry Curve, Pong will allay your fears.
Pong claims that its mobile phone skins reduce the phones' Specific Absorption Ratio–the amount of radiation absorbed by your body–by more than 60 percent. It accomplishes this with a module of gold strips that act as a secondary antenna, channeling the radiation away from your head. The module's thickness is barely noticeable, to the point that Pong looks like an ordinary smartphone skin from the outside.
The iPhone version has been available for several months, and pre-orders are available now for the Blackberry Curve skin, shipping in February. Both cost $50.
Think this is a bunch of hooey? Wired made that mistake in September, when the Pong's iPhone skin was released, calling it snake oil before performing its own tests and finding that Pong's claims are valid.
Whether you actually need additional radiation protection is another story. The Federal Communications Commission regulates Specific Absorption Ratio in phones, but Pong's Albert Liu said those standards date to 1992, when people didn't use cell phones as much. Research on whether cell phones cause bodily harm goes both ways; the World Health Organization says that there's a link but researchers in Scandinavian countries recently failed to find any connection.
"We don't want to spread panic and fear," Liu said. "We're not about that, but if you're concerned, you can use our product and gain peace of mind."
For more up-to-the-minute blogs, stories, photos, and video from the nation's largest consumer electronics show, check out PC World's complete coverage of CES 2010.