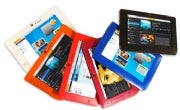 If this year's CES is any indication, 2010 is the Year of the Tablet PC. Practically every major consumer tech company is coming out with something thin, touchable, and Twitter-friendly.
The evolution of the tablet PC is similar to that of the laptop computer, the netbook, and the smartphone: Companies aren't so much selling us a better computer as they are selling us new ways to use computers.
However, consumers want something more portable than a laptop, more powerful than a netbook, and more comfortable than a smartphone–and a new tablet PC could very well fill all of those needs, in many different ways. People who love their e-readers but want something a little more versatile would likely love the Adam by Notion Ink, for example, while fans of touchscreen smartphones should pay close attention to Dell's concept Android tablet, which could offer similar Internet functions with a much more comfortable user experience.
(To view a slideshow summary of the tablet PCs included here see: Tablets Steal the Show at CES )
To see what the burgeoning tablet PC market might be able to offer you in the near future, read on for a comparison of the newly announced tablets from HP, Lenovo, and Sony, as well as a look at some of the almost-announced tablets on the horizon. Most likely, none of these products will be able to replace your main PC–but one of them just might scratch an itch you didn't realize you had.
HP Multitouch Tablet
HP's as-yet-unnamed tablet is undoubtedly the star so far, considering that Microsoft CEO Steve Ballmer demoed it at the CES 2010 keynote.
Some tablet enthusiasts were disappointed because it wasn't the rumored Microsoft "Courier" dual-screen tablet prototype that leaked in September 2009, and in Ballmer's brief demo we didn't see any game-changing features. At this point, though, HP's tablet seems poised to define the standard tablet PC experience. We do know that the HP tablet runs Windows 7, supports multitouch gestures, has an accelerometer to change the display's orientation automatically, and is due out in mid-2010 for under $500.
More info: Read our coverage of the HP tablet demo at the CES keynote, or check out one writer's take on the HP tablet announcement.
Lenovo Ideapad U1 Hybrid Notebook/Tablet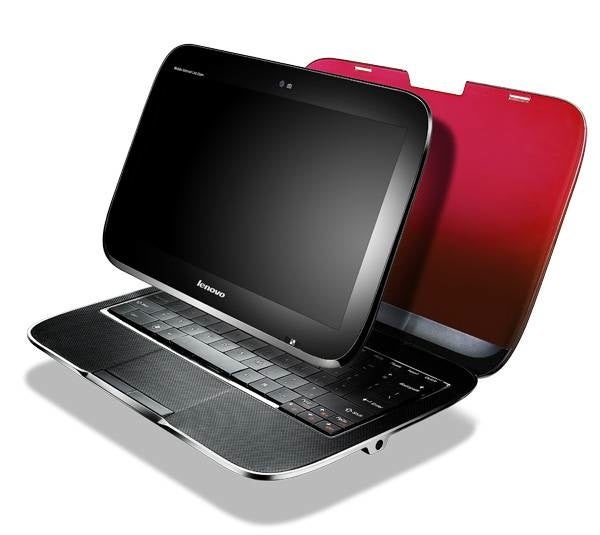 Lenovo's Ideapad U1 touchscreen laptop/tablet has been turning heads at CES–probably because it can take its own head off. The Ideapad U1 starts out as a 3.8-pound laptop that runs Windows 7 on a Core 2 Duo CULV processor and a 128GB solid-state drive, but removing the 11.6-inch display lets you use it as a stand-alone Linux tablet PC, powered by a 1GHz Snapdragon ARM processor with 16GB of flash memory.
Once detached, the base of the PC becomes a 3G wireless hub for the tablet, ensuring that you keep your Internet connection. Lenovo's Hybrid Switch software handles the move between the main processor and the tablet processor, so users should be able to start browsing a Website in laptop mode and continue where they left off after they detach the tablet. Lenovo's Ideapad U1 hybrid PC is due out on June 1 for less than $1000.
More info: Watch a video of the Ideapad U1 in action, or read about Lenovo's announcement.
Sony Dash Mobile Internet Device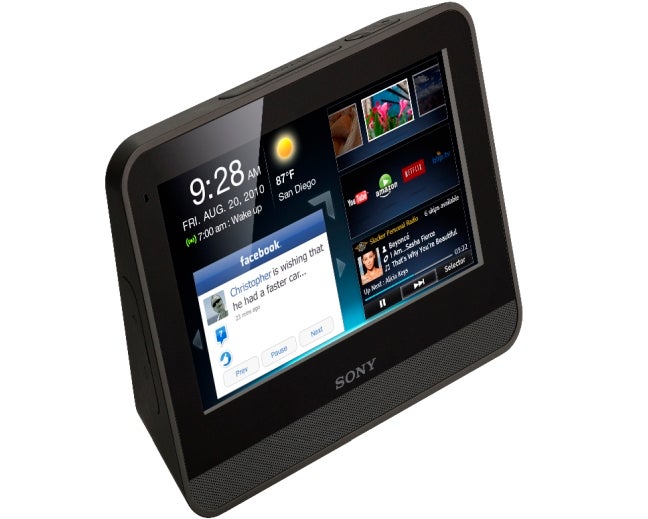 While HP's unnamed tablet and Lenovo's Ideapad U1 are headed in a general-computing direction, Sony's Dash is taking a different tack. Sony is calling the Dash a "portable Internet device," and the product takes more inspiration from the Chumby Internet appliance (in fact, Sony collaborated with Chumby in developing the Dash) than it does from any previous tablet PC.
With a Dash, you can stream media from Sony's Bravia content networks or attached USB devices onto its 7-inch, 800-by-480-pixel touchscreen, and listen to it through the built-in speaker or the standard 3.5mm headphone jack. You can also access the Internet over the Dash's Wi-Fi 802.11b/g connection using the included apps, or you can grab your own choices from among its library of over 1000 existing Chumby apps. The unit has no built-in storage space–the Dash is meant only for accessing the Internet. It supports multitasking, however, so you should be able to listen to Pandora while updating Facebook (or reading PCWorld). It will be available for $200 in April.
More info: Check out our coverage of Sony's announcement or stop by the Sony Dash product page.
Notion Ink Adam Smartpad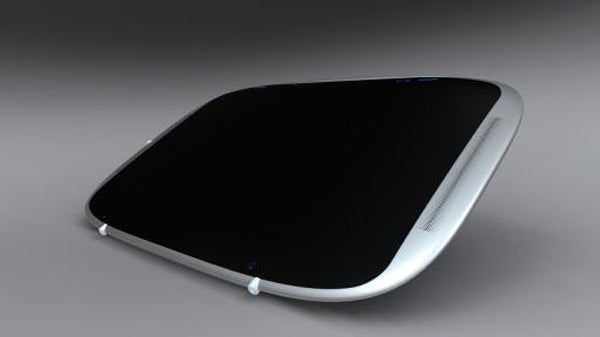 The Android-based Adam, created by India-based startup Notion Ink, is a tablet PC that blurs the line between e-reader and full-fledged PC. First announced in December 2009, the Adam carries the nVidia Tegra chip, weighs 1.7 pounds, supports wireless Internet via Wi-Fi and 3G (Engadget reports that the current 3G chip is compatible with AT&T), and can charge via USB.
Of particular note is the 10.1-inch Pixel Qi display, which could potentially stretch the Adam's battery life far beyond that of other tablet PCs, especially when combined with the power-efficient nVidia Tegra chip. No news yet on a shipping date, but the price is expected to be less than $400.
More info: Read about the original Notion Ink Adam announcement.
Archos 9 PCTablet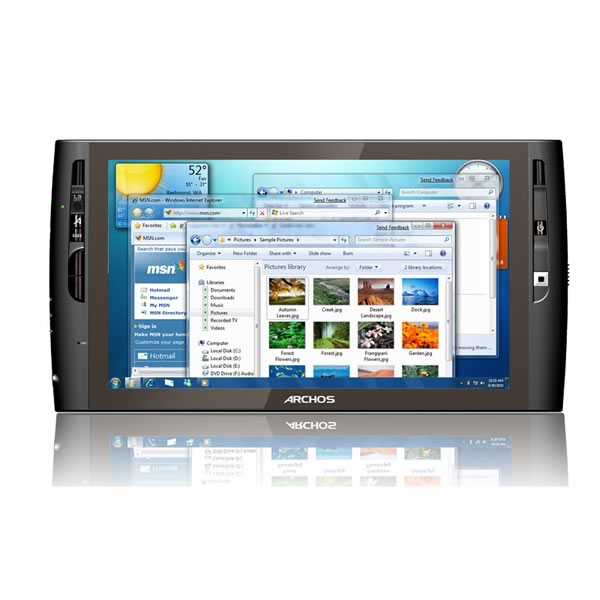 Despite appearing at Steve Ballmer's CES 2010 keynote, the Archos 9 PCTablet didn't get any love. That's probably because it actually debuted in mid-2009, and a few preorders have already shipped, though it's not expected to hit general retail channels until the first quarter of 2010.
Unlike the rest of the tablets at CES, the Archos 9 PCTablet is more like a 9-inch, 1024-by-600-pixel touchscreen UMPC that runs Windows 7 Starter Edition; it's powered by a 1.1GHz Intel Atom Z510 processor. The PCTablet also packs a 60GB hard drive and 1GB of RAM, offers networking via 802.11b/g Wi-Fi and 100-mbps ethernet, and has USB 2.0, microphone, and 3.5mm audio ports, as well as a 1.3-megapixel Webcam.
Considering that the Archos 9 was first announced in June 2009, specs-wise it doesn't seem capable of hanging with all the new CES-announced tablets when it finally ships in early 2010. Preorders cost around $750, but retail pricing is still undetermined for its release.
More info: See the Archos 9 PCtablet product page.
Innovative Converged Devices Vega and Ultra Tablets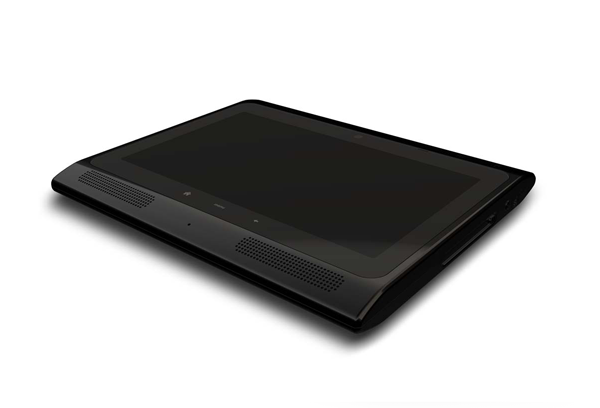 ICD has announced a pair of Android 2.0 tablets, one of which–the Ultra–has been popping up at nVidia's CES booth, at Verizon's booth, and on Late Night with Jimmy Fallon in mid-December 2009.
According to ICD's Ultra product page, the Ultra tablet has a 7-inch touchscreen and is powered by a 1GHz nVidia Tegra T20 processor, which lets you watch smooth 1080p video; the device also includes 4GB of on-board storage space, as well as a MicroSD card slot for further expansion. The ICD Vega, the Ultra's bigger cousin, has a 15.6-inch, 1366-by-768-pixel touchscreen and a 32GB solid-state drive.
Both tablets give you a full spread of connectivity options, ranging from USB 2.0 and Bluetooth to 2G/3G data networks (optional) and Wi-Fi 802.11b/g, though the demo at Verizon's booth reportedly had the unit using a Motorola 4G modem on a precommercial network. Other specs include a 1.3-megapixel Webcam, an accelerometer, dual digital microphones, an FM radio, and an ambient-light sensor.
While the tablets look promising, our brief early look at the ICD Ultra suggests that they have a ways to go before they hit the market. No release date has been announced.
More info: Check out our sneak peek at the ICD Ultra or read more preliminary details about the whole ICD tablet family.
Freescale Semiconductors Tablet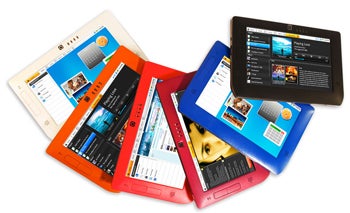 Freescale made waves by announcing the $199 "smartbook" tablet early on in CES, but the company hasn't pulled the veil off quite yet. Equipped with a 1GHz ARM processor, some sort of on-board graphics hardware for HD video, and wireless connectivity via 802.11b/g/n or (optional) 3G modem, the device is intended to run general applications such as a Web browser (with Flash support), social networking tools, and an office suite.
The tablet is slated to have a 7-inch 1024-by-600-pixel touchscreen, a 3-megapixel Webcam, 4GB to 64GB of internal storage, and a MicroSD slot; it will also weigh less than a pound. So far, Freescale's design appears more conceptual than concrete–no manufacturers or vendors have been named as yet, though Freescale is aiming for a summer release. Stay tuned for more details as CES progresses.
More info: Read our coverage of the Freescale i.MX515 processor, and look at the Freescale tablet prototype from September 2009.
Pegatron Tablet
The other mysterious tablet from Steve Ballmer's CES keynote was a tablet by Pegatron (which was spun off from Taiwan-based AsusTek Computer in December 2009). Details are scarce, except that the device is significantly larger than the Archos 9 and HP tablets. According to Neowin, the unit has an 11.6-inch touchscreen display, 1GB of RAM, 32GB of on-board storage, a Webcam, and HDMI-out.
More info: Read Neowin's hands-on with the Pegatron tablet.
Dell 'Streak' Android Tablet Concept
Rumors of Dell's entry into the tablet market have been floating around for a while, starting with the Android-powered mobile Internet device rumors from mid-2009 and continuing into December, when the unit picked up the Dell "Streak" moniker. Though this device has finally surfaced as an unnamed concept product at CES 2010, we have few details aside from confirmation that it uses Google's Android OS and has a 5-inch touchscreen with a 5-megapixel camera on the back. Pocket-lint reports that it has an option for a built-in SIM card.
More info: Read our article on some of the pre-CES Dell Streak speculation.
Apple 'iSlate' Tablet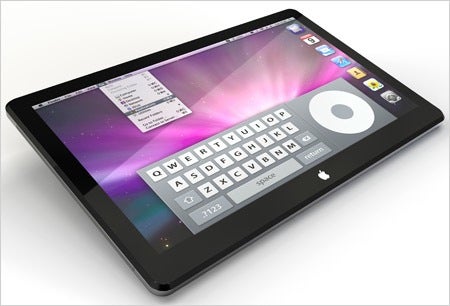 Even though Apple never attends CES, people have been buzzing about an upcoming Apple tablet for months now. As of this writing, all signs point to a January 26 announcement at a special Apple media event, and a March ship date. The tablet is expected to be named the iSlate. Specs are still unknown, of course, but a blog post by former Google China exec (and former Apple employee) Kai-Fu Lee suggests a 10.1-inch touchscreen with 3D graphics hardware, 3G Internet support (and a possible price subsidy from wireless carriers), and a price tag under $1000.
More info: See one PCW blogger's take on the many possible uses of the Apple tablet.
For more up-to-the-minute blogs, stories, photos, and video from the nation's largest consumer electronics show, check out PCWorld's complete coverage of CES 2010.
Patrick Miller is a staff editor for PCWorld. Find him off-duty @pattheflip.