MSI unveiled two prototype dual-screen Windows 7 netbooks at the International Consumer Electronics Show in Las Vegas on Thursday: a model with two 7-inch screens and another with two 10-inch screens.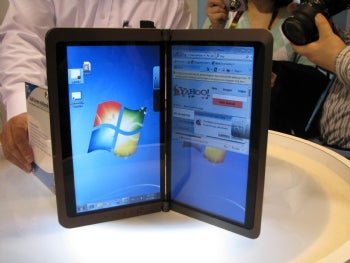 The devices both use LCD touch screens, run Microsoft's Windows 7 OS and have Intel Menlow microprocessors inside for longer-lasting batteries, an MSI representative said. A one-cell battery can power the devices for six hours, he said. Data storage for them is on solid-state drives, either 32GB or 64GB.
The dual-screen netbooks are designed for use as mini-laptops as well as e-readers. The use of LCD screens instead of digital-ink screen technology on the netbooks will make the devices less expensive because LCD technology is already widely used and cheaper than digital ink. But LCD screens give off light in a way that causes people's eyes to tire.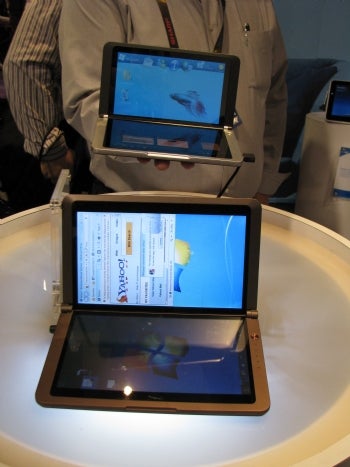 Digital-ink-based screen technologies were developed to combat the impact of computer screens on the eyes by making the digital ink more similar to reading the printed page with an external light such as a lamp or daylight.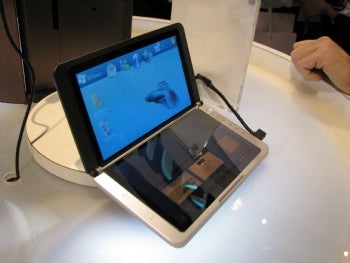 The devices are not in production, but the MSI representative said if anyone wanted to place an order, they could be mass-produced at any time. MSI is a contract manufacturer but also markets some of its own products. The company has no plan to market the devices itself.
Asustek Computer also had its dual-screen netbook on display at CES, one it showed at the CEBIT electronics show in Germany last March. The prototype sports two 11-inch or 12-inch touch screens and was created due in part to user queries to a Web site, WePC.com., that Asustek set up to allow users to send in ideas. An Asustek representative said the device is a project the company has worked on with Intel.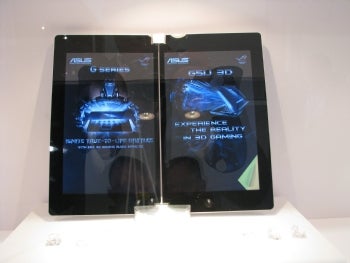 Asustek said a dual e-reader/notebook was one possibility, and that the two screens could also be used together for widescreen movies or other videos.
MSI also showed off an e-reader running Google's Android OS. The device has a 10-inch LCD touch screen and uses Nvidia's Arm-based Tegra chips inside. The LCD e-reader is also ready for production but is not something MSI will market itself, the representative said.