Does the world need yet another e-book platform? Voice recognition guru Ray Kurzweil and his partners in KNFB Reading Technology think so–especially for books that depend heavily on graphics.
Unveiled this week at CES, KNFB's Blio software for PCs and mobile devices promises to not only preserve but enhance the print experience for titles with lots of illustrations and other design elements, while also offering traditional e-book options such as the ability to resize and reflow text.
What Blio won't have when it makes its debut in the next few weeks (as free downloads for PCs and iPhones) is dedicated hardware: There are no Blio e-book readers, although the software's creators say they expect such devices to follow. (The download will be available on the Blio Web site.)
Microsoft Technologies
Blio is based heavily on Microsoft technologies including XPS (XML Paper Specification) and (Windows Presentation Format). Support for additional devices (beyond PCs and iPhones) will be forthcoming via Microsoft's Silverlight browser technology.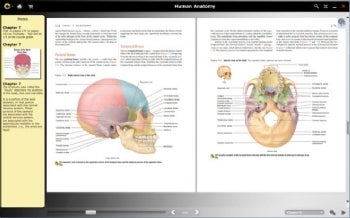 You'll be able to acquire Blio content via a storefront that's integrated into the application (a la iTunes). Blio's digital rights management technology allows you to associate up to 5 devices with your account (but unlike iTunes, Blio doesn't let you deactivate a device in order to add a new one–5 is supposed to be a lifetime limit). At launch, Blio officials said their storefront would offer access to more than 1.2 million free and DRM-protected titles.
Beautiful Graphics
Where Blio really shines is in its ability to display beautiful graphics on a PC monitor. In a demo at the Microsoft CES booth, a heavily illustrated children's book looked terrific on an LCD monitor–as did pages from a medical anatomy textbook.
Blio can also integrate an audiobook with its electronic counterpart. Click on a word to highlight it, and you can hear that word spoken. Blio representatives explained that while most audiobooks are organized by chapters, Blio authoring tools allow association with the written text.
Blio can also integrate Web content with a book. In the CES demo, clicking on an illustration in the medical textbook initiated playback of an embedded video–within the page.
Lack of Dedicated Hardware
But while Blio can faithfully recreate printed pages, so can PDFs. However Blio also provides many more traditional e-book options, such as the ability to resize and reflow text. Blio also supports synchronization between associated Internet-connected devices, much the way Amazon's Whispernet lets you pick up reading on one device at the point where you left off on another.
Blio also provides good-looking annotation tools, as you might expect from PC software. You can, for example, highlight text in color.
It remains to be seen whether lack of dedicated Blio hardware will prove a major obstacle to the format. Most people who want e-book readers have devices, not software, in mind. On a gadget with a great, high-res color display, Blio could bring a whole new chunk of content into the e-book fold.
For more up-to-the-minute blogs, stories, photos, and video from the nation's largest consumer electronics show, check out PC World's complete coverage of CES 2010 .