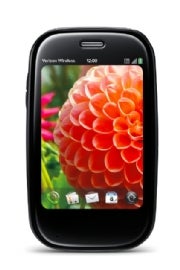 This morning Palm announced a slew of product updates, including two new handsets, updates to the webOS platform, and a carrier relationship with Verizon. This afternoon I got some hands-on time with the Palm Pre Plus and Pixi Plus and tested the new video capture app.
Appearance-wise, the Pre Plus is nearly identical to the original Pre except Palm nixed the Pre's single hardware button. I asked what motivated that decision and Palm said that it was mostly a matter of aesthetics: Getting rid of the button eliminated one more moving part and resulted in a sleeker profile. Like the Pixi (both versions), the Pre Plus has a capacitive touch area below the screen with a light-up bar. To close an app, you simply tap this area (rather than press the button, as you would on the original Pre).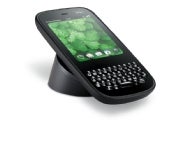 The Pixi Plus is completely identical to the original in specs and design, except the Pixi Plus includes Wi-Fi connectivity. The new back covers aren't nearly as inspired as the California Artists Series that debuted with the original Pixi, but they are compatible with the Touchstone inductive charger. The covers will come in pink, blue, green, orange and black. Pricing has not been announced.
The coolest updates lie in the software, especially the new Mobile Hotspot application. Basically, you can turn your Pre Plus into a Wi-Fi access point for five other devices such as your netbook or portable media player. You'll get hit with data charges indefinitely, but it is a welcome feature nonetheless.
The video capture app is simple: You shoot video with the existing camera app with the press of a button. You can then trim your clip by dragging a handle through a series of thumbnail-size stills. It is actually quite similar to the iPhone 3GS' app. The app also lets you upload directly to Facebook and YouTube.
Video quality was decent, though not quite on par with the iPhone's. We'll of course put it to more vigorous tests when it becomes available.
Perhaps the best update is the upcoming Adobe Flash 10.1 player for the Pre's browser. Pixi users unfortunately won't get this update right away due to hardware issues with Adobe. We have known this update was coming to webOS (as well as Android, BlackBerry and Windows Mobile) for a while, but it is a huge advantage that the Pre will have over iPhone 3GS.
For more up-to-the-minute blogs, stories, photos, and video from the nation's largest consumer electronics show, check out PC World's complete coverage of CES 2010.