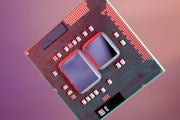 It's official. Intel CEO Paul Otellini launched a volley of 32-nanometer cannonballs at AMD today with the official release of the company's latest dual- and quad-core Clarkdale (desktop) and dual-core Arrandale (laptop) CPUs.
The launch–spanning 27 different chips and seven individual chipsets–marks the first time Intel has opted to stash a graphics processing unit alongside the CPU on consumer platforms. What does that mean? Smaller motherboard form factors, lower power consumption, and better cooling for the integrated chips. Expect to be able to get your hands these new CPUs as early as late January.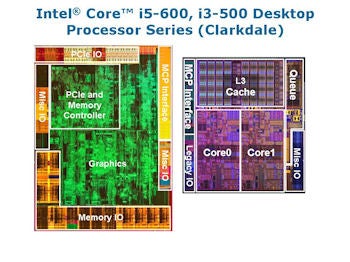 The benefits the move brings to the living rooms of aspiring PC purchasers include advanced optimizations for HD playback and new supported features–picture-and-picture Blu-ray capabilities and dual-monitor support via HDMI or DisplayPort connections, to name a few.
Unique to the Arrandale lineup is the ability to switch between integrated and discrete graphics on-the-fly. Although both Clarkdale and Arrandale processors feature lower power consumption than previous Intel CPUs, combination of speedy discrete graphics and a low power overhead improves laptop gaming performance while still keeping the best interests of the battery in mind.
Intel has stuck with the Turbo functionality from its Lynnfield family of CPUs to deliver automatic overclocking for supported Clarkdale and Arrandale processors. That said, the Core i7 line of processors for both desktop and mobile still deliver Intel's best performance in terms of raw speeds.
However, the more inexpensive Clarkdale and Arrandale CPUs should definitely do their part to help usher out the company's Core 2 processor family. And in some ways, Clarkdale and Arrandale chips even do a fair job of competing against the prices and performances of a few of their more multi-core, Core i7 cousins.
Be sure to check out PC World's full analysis of the Clarkdale and Arrandale chips, including breakdowns of all the newly announced products and prices.
Follow us on Twitter @geektech for your daily fill of tips, hacks, hardware, and even more nerdery. And feel free to brag about your Clarkdale overclocking to David Murphy @Acererak.