Google's latest location-based feature for mobile devices, which went live recently, will make it easier to find restaurants, bars, ATMs and more when you're in an unfamiliar area. The feature, called "Near Me Now," is available on the Google homepage on your iPhone (OS 3.0 or later) and Android (OS 2.0.1 or later) devices. Near Me Now is currently available only for United States users, and was first announced in December, alongside other new mobile search features including Google Goggles.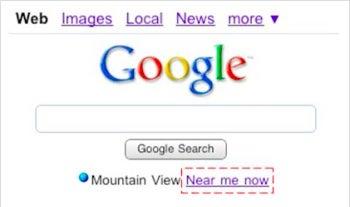 How It Works
Before you can use Near Me Now, you must allow Google to identify your location;, Google is not entirely clear on what this means, but I assume the search giant is talking about enabling its My Location feature. Once that's done, you will see your location and a "Near Me Now" link under the search box on the Google mobile homepage. If you click on the link, you'll see an expanded list of five categories: Explore Right Here (more about this later), Restaurants, Coffee Shops, Bars, and ATMs and Banks.
Then, you simply select the category to find a hotspot for lunch, the closest ATM, or the nearest place to grab a latte. With Near Me Now you can also drill deeper to find restaurant reviews, hours of operation, and contact information just as you can with Google Maps.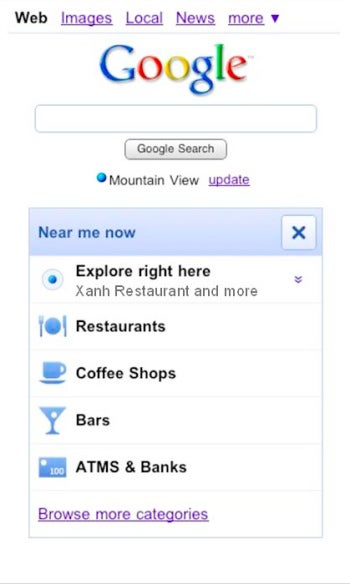 Local Search and Explore Right Here
If you're looking for something in your vicinity that's not a restaurant, bar, or bank, Near Me Now has more options to help you find what you're looking for. You can click on the "Browse More Categories" option, which will enable the local search feature Google launched last fall. Local search gives you more categories, so you can find other places like shopping centers, gas stations, hotels, and movie theaters.
Your second option is to select the "Explore Right Here" category. This will give you a list of what Google believes are the most popular locations and attractions around you–an ideal tool when you have some time to kill, but aren't sure what's in your immediate vicinity. Google says Explore Right Here will only work if your "phone provides location accuracy within approximately a city block."
What About The Rest of Us?
While Near Me Now looks like it could be a helpful product, it won't be nearly as helpful until it expands its offerings. Google has not said whether it plans to introduce Near Me Now for Blackberry, Nokia, and Windows Mobile users. That's a massive chunk of the mobile user base, not to mention the fact that Near Me Now is an ideal tool for traveling executives–many of whom favor Blackberry and Windows Mobile.
Google should also consider integrating Near Me Now onto the PC, since the search giant also offers location-aware applications like My Location and Latitude for the desktop. Google may be reluctant to violate the sanctity of the Google homepage, but Near Me Now could be integrated into Google Maps just like My Location is.
Near Me Now looks like a great feature, and once it's launched on more platforms (not to mention other countries), it could be a threat to other location-based business finder apps like Yelp and Urban Spoon.
Connect with Ian on Twitter (@ianpaul).