Think CES stands for the annual Consumer Electronics Show? Think again: this year CES could stand for "Crammed with E-readers and Slates." Every time you turn around, a new report comes out of CES announcing yet another multipurpose touchscreen device that's smaller than a netbook, but bigger than an iPhone.
Archos, Dell, HP, Lenovo, and Sony are just a few of the manufacturers to debut slate computers at CES. Meanwhile, Plastic Logic finally announced a release date for the Que e-reader, Hearst debuted the Skiff, Spring Design unveiled Alex–a dual-screen, Android-based e-reader–and Amazon announced the Kindle DX with Global Wireless.
But have you noticed that tablets and e-readers are likely to end up targeting the same consumer? Both devices are pretty much the same size, and the primary function of each is to display content with minimal interaction from the user. The key difference is that e-readers are designed to display text in black-and-white, and do a poor job displaying images or Web pages. Tablets, on the other hand, are basically computers without keyboards capable of displaying Web sites, videos, e-books, and digital magazines in full color. So that begs the question: are e-readers doomed to fail if the tablet rises in popularity?
For e-readers it's all about E-Ink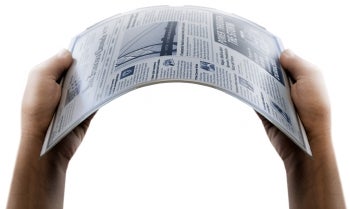 The biggest advantage e-readers have over tablet devices is the E-ink display. E-ink is an innovative technology that does a fantastic job of mimicking the look of text on the printed page. Typically, you don't experience the same fatigue from reading an E-ink display for long periods of time that you do when you spend hours staring at the glare of your computer screen. E-readers can also go for days without requiring a recharge, while tablets won't give you much more than a few hours of display time. E-readers also won't weigh down your backpack or briefcase as much as a tablet would, either.
Tablets can do everything else
But if you don't mind the glare of an LED screen and the shorter battery life, there's no question that tablets are the way to go. Take a look at the HP Slate that Microsoft CEO Steve Ballmer introduced on Wednesday. This device has a multitouch screen, with an estimated 10-inch display size, will run Windows 7, and comes preloaded with Amazon's Kindle for PC application. So in addition to functioning as an e-reader, HP's device will also let you watch videos, surf the Web, and download applications using an operating system most people are already familiar with.
The Price is Right
The HP Slate doesn't have an official price yet, but reports are pointing to a sub-$500 cost. Amazon's Kindle DX, an e-reader with a comparable screen size, sells for $489, and the cheapest version of Plastic Logic's Que reader will be $650. If you can get a touch-based computer running Windows 7 for under $500, why bother with an e-reader at all? And even if you have to pay around $800 for a tablet, the multipurpose nature of the device still gives you more value than a typical e-reader.
The problem with tablets
Of course, unlike e-readers, tablets are an unproven commodity. Tablet PCs with swivel screens and stylus inputs have not sold well in the past, so there's no guarantee that an updated multitouch tablet will fare better. Meanwhile, Amazon recently reported that the Kindle was its best selling gadget during last year's holiday season, which is a clear vote of confidence for e-reader popularity.
For tablets to gain traction, device manufacturers are going to have to convince you to fork over your hard-earned cash for a device that has more uses than an e-reader, but is similar in function to laptops, smartphones, and netbooks. Whether that will happen is anybody's guess. There's no doubt that tablets are generating a lot of excitement, but we'll have to wait until these devices hit store shelves later this year to see whether enthusiasm translates into cold hard cash.
For more up-to-the-minute blogs, stories, photos, and video from the nation's largest consumer electronics show, check out PC World's complete coverage of CES 2010.
Connect with Ian on Twitter (@ianpaul).