Intel chief executive officer Paul Ottelini demonstrated a mobile device from LG built on Intel's Moorestown architecture at CES 2010. The device brings "Intel Inside" from computers to mobile devices and follows the unspoken theme of CES 2010 to blur the line between mobile phone and portable computer.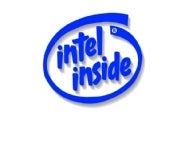 While Intel has a dominant role in processors for computers, it has not had a stake in mobile handsets. However, mobile phones have become smartphones which, according to Google, have now evolved into superphones. At the same time, notebooks became netbooks which are now shrinking to become smartbooks.
When your smartbook is the same size or smaller than your superphone, the line between computer and mobile device is officially blurred. Ottelini explained "Advances in connectivity, intuitive user interfaces, immersive content and computer chip performance have allowed computing to move into new areas. Computing moving into all manner of devices and experiences all around us improves our personal productivity and enjoyment."
The LG GW990 smartphone (or superphone, I guess) unveiled by Ottelini looks a little like an iPhone with a thyroid condition. It is a testament to Apple and the engineering genius of the iPhone that the next generation of smartphones all seem to mimic it in both form and function.
The LG GW990 has an Intel processor and runs on the Linux-based Moblin operating system. It has a 5-inch multi-touch display, making this particular smartphone rival the Dell slate PC in size and function–but with mobile phone functionality thrown in. The display is capable of high definition 720p video, and it has a camera on the front and back, making it suitable for video conferencing.
Ottelini describes the Moorestown platform "It's smaller, faster and better than anything we've done before."
Smartphones are traditionally built on ARM-based processors. Intel's Moorestown integrates an Intel Atom processor core, along with graphics processing, video and memory controller into a single chip to deliver netbook-like capabilities with significantly lower power consumption rivaling the ARM chips.
The Intel invasion of mobile devices comes as ARM-based processors are beginning to compete more aggressively with Intel's Atom processors on mobile computers. ARM-based smartbooks and netbooks, like the Lenovo Skylight, are making their debut at CES 2010 as well.
If the announcements and product launches at CES 2010 are any indication, 2010 is shaping up to be the year of the tablet PC. However, larger smartphones with more powerful computer functionality, and smaller netbooks and smartbooks, combined with a vast array of ereader devices, will provide users with an unprecedented, albeit somewhat confusing, diversity of options for mobile computing and communications.
The challenge for users will be to find the right mix of features and functions for the money. Regardless of what you choose, it seems your next netbook may be built around ARM, and your next mobile phone may be "Intel Inside".
Tony Bradley tweets as @PCSecurityNews, and can be contacted at his Facebook page .