Ford is making waves at the Consumer Electronics Show with MyFord Touch, a re-envisioned dashboard for multimedia, navigation and connections to the Internet. But while it's nice to ogle the technology's features or panic about safety, there are plenty of practical questions to answer.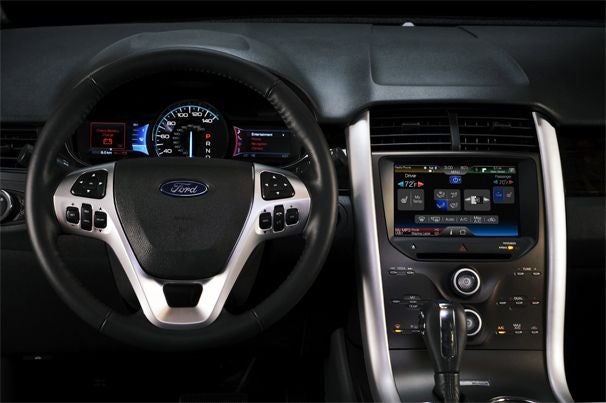 What is MyFord Touch and how is it different from Ford Sync?
Sync, a joint effort between Microsoft and Ford introduced in 2007, communicates with phones via Bluetooth to provide communication, media playback, navigation and diagnostics. MyFord Touch is a new interface for Sync, essentially redesigning the car's dashboard around it.
What's so great about the that?
Some of the MyFord Touch excitement actually has more to do with Sync itself, which will soon support hands-free control of mobile apps. Features exclusive to MyFord Touch include video playback, photo backgrounds imported via SD card, control over ambient lighting colors and the ability to access the Web by plugging in a 3G/4G modem or parking the car at a Wi-Fi hotspot.
What does it look like?
In my brief hands-on, there was never a time when I couldn't immediately access options for entertainment, navigation and phone connections. There are also buttons on the wheel for controlling these options, and the car's instrument panel has additional screens for easier viewing of MyTouch features. Response time with the touch panel was a bit sluggish, but Ford says this will be improved before release.
What's all this about apps?
Ford has a development application programming interface available now to select developers. These developers can integrate the apps into Ford vehicles and release an update on mobile phone app stores that unlock the functionality. On display at CES were Pandora, Stitcher (a build-your-own talk radio service) and Twitter (Tweets are read back to you by a computerized female voice). These are controllable by voice or with the car's buttons, with more apps to come. Eventually, Ford wants to open app development to a wide network of developers.
What cars will include MyFord Touch?
The first supported vehicles will be the 2011 Ford Edge and Lincoln MKX (branded MyLincoln Touch), followed by the 2012 Ford Focus. MyMercury Touch vehicles are also planned.
Will MyFord Touch come standard in these cars?
Yes, but there will be three tiers for the interface. The top tier, being shown at CES, has an 8-inch resistive touch screen, capacitive buttons underneath, plus two additional screens in the instrument panel. The middle tier has has only one screen in the panel, and the bottom tier replaces the 8-inch screen with a 4-inch non-touch screen, accompanied by buttons on either side.
For more up-to-the-minute blogs, stories, photos, and video from the nation's largest consumer electronics show, check out PC World's complete coverage of CES 2010.