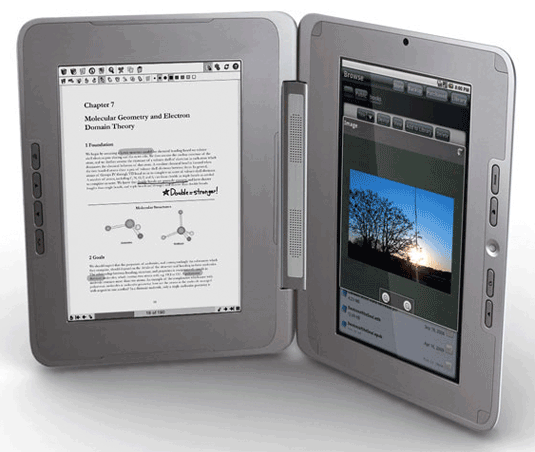 The dual-screen Entourage eDge is aimed squarely at the education market, and the company's deal with textbook makers like McGraw-Hill underscores its emphasis on students. Due out in February, the $490 eDge has a clamshell design (that can flip to be used as a book or as tablet) and dual displays, a 9.7-inch E-Ink and a 10.1-inch LCD.
The LCD side runs Android software, customized with applications for annotations and sharing content, and it comes with a stylus for the tablet LCD side (but you can navigate the tablet side with your fingers, too-just push a little extra hard because of the touch screen overlay).
There's a functional and large on-screen USB keyboard, but the company says it's not intended to replace a netbook. The three-pound eDge will work with an external USB or Bluetooth keyboard if you want to type a lot. It comes down to what you are going to use the device for. With both ePub and PDF support, the device holds appeal for both education and business users, and carries the price of a well-powered netbook (or the cost of its primary competitor, the Amazon Kindle DX).
As far as specs go, the eDge weighs about 2.75lbs, measures 8.25″ by 10.75″ by 1″ (while closed), and contains 4GB of internal memory (3GB of which is accessible to the user, though an SD card slot and two USB ports lets you expand) and supports 802.11b/g Wi-Fi and Bluetooth, with 3G wireless Internet access via modem planned for the future. Audio in/out comes by way of a 3.5mm headphone jack and microphone jack, though the eDge also has an internal mic and speakers.
Don't forget to check out our other CES 2010 e-reader coverage.
For more up-to-the-minute blogs, stories, photos, and video from the nation's largest consumer electronics show, check out PC World's complete coverage of CES 2010.