Would you pay $10 to $25 per month for Google Earth, news, weather and travel information on your car dashboard? Audi's hoping that its deep-pocketed customers will.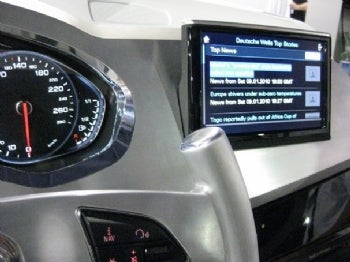 The German luxury automaker has teamed up with Nvidia to offer those Web services in the 2011 Audi A8, and I checked them out at Nvidia's CES booth. Though the price isn't final, Audi Connected Vehicle Senior Engineer Markus Putze said $10 to $25 will be the likely cost of a built-in data plan. European Audi owners, however, will be able to pop in SIM cards from their phones to avoid another data charge.
The A8 doesn't use a touch screen like the one in Ford's upcoming MyFord Touch interface. Instead, there's a separate track pad used for sliding around Google Earth and literally drawing letters with your finger for text input. There's also a clickable dial that zooms in and out of the map and scrolls through menu options.
It's a pretty setup to look at – Nvidia's EMP1 graphics processor nicely renders land topography in Google Earth, and can even show individual 3D buildings in map view – but it's not as forward-thinking as MyFord Touch. Audi isn't allowing for streaming media, such as Pandora, and likely won't until 4G networks come around. And the system won't read news and weather to you. Those features are locked out to the driver when the car's in motion.
But strictly as eye candy, Audi's take on the connected car looks as nice as the car itself.
For more up-to-the-minute blogs, stories, photos, and video from the nation's largest consumer electronics show, check out PC World's complete coverage of CES 2010.