The Nexus One "superphone" revolution appears to be experiencing some backlash. Google's Nexus One has been available for less than a week, yet customers and developers are already amassing a growing list of issues and complaints.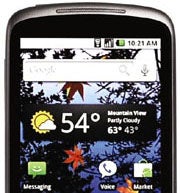 The speculation leading up to the Nexus One launch event, and the hype dished out by Google during the press event suggest that this is not just another smartphone. No, it's not even just another Android smartphone. This is the first Android 2.1 smartphone, and the first Google-branded smartphone, and the first smartphone marketed directly from Google's new online storefront.
While Android has already developed an army of loyalists quick to react to anything less than glowing praise by labeling the source either as a biased Apple fanboy, or an out-of-touch Luddite, there is also a growing chorus of complaints from both users and developers suggesting that the Nexus One honeymoon might be over almost as quickly as it began.
Customer Support
For some of the customers first in line to grab a Nexus One, excitement did not take long to turn into frustration. The Google support forums have filled up with users complaining that the Nexus One 3G connectivity is flaky. Users appear to be experiencing issues ranging from never getting a 3G connection, to Nexus One devices that constantly flip between 3G and EDGE connectivity.
That isn't the real problem, though. The Nexus One is a complex device that performs a variety of functions and users are bound to encounter issues. The real problem is figuring out which entity is supposed to be responsible for answering questions and providing support.
Google touted its market-revolutionizing strategy of selling the devices directly from its own Web site rather than distributing them through a wireless provider. Of course, you could already buy mobile phones on the Web–with or without a service plan–from popular online destinations like Amazon and Best Buy, and you still have to get service from a provider. The only one currently available is T-Mobile which makes the Nexus One purchase experience a lot like buying it from T-Mobile's Web site.
If you buy a Nexus One manufactured by HTC, directly from Google's Web site, and use it with T-Mobile's wireless network–who do you call when you have a problem? Google is only accepting support requests via e-mail, and users are getting bounced between T-Mobile and HTC as neither seems equipped to answer complaints, or willing to accept responsibility for supporting the Nexus One.
Developer Support
One of the leading measures of the success of a smartphone platform is its apps. Android will not challenge the iPhone for most apps any time soon, but the open source platform is popular with developers and the Android Market has over 20,000 apps available.
Developers are disgruntled, though, by the lack of tools for the new Android 2.1 platform. Google apparently wanted to keep the new bells and whistles of Android 2.1 secret for the Nexus One launch.
Now the Nexus One is available, and Android 2.1 will soon be available as an update for existing Android-based handsets, but Google has yet to release an SDK (software developers' kit) to provide developers with the tools they need to be able to develop apps that leverage the new bells and whistles, or just to make sure the apps they have already developed are compatible with Android 2.1.
Vendor Support
Prior to the rumors and speculation about the Nexus One, the Android story revolved around the quickly growing number of Android-based devices available from an increasingly diverse collection of manufacturers.
Verizon invested heavily in generating buzz and marketing the launch of the Motorola Droid. The Droid was the first Android 2.0 device, and the Motorola hardware made the Droid a compelling platform rivaling the iPhone.
That was just over two months ago. Now, the Motorola Droid has had its thunder stolen by the HTC Nexus One. The Droid will get the Android 2.1 update soon, but its hardware is not capable of delivering all of the functionality of the latest platform.
Google's partnership with HTC, and its entry into the Android smartphone arena leaves other vendors like Motorola and Samsung at a disadvantage. If the Nexus One launch is any indication, Google and HTC may always be one step ahead of the competition, designing devices that incorporate new functionality that competitors aren't yet aware of.
I am sure Google did not anticipate that jumping into the smartphone market would be all wine and roses, but I suspect that it thought the honeymoon might last more than a week. Google's new venture gives it a lot of plates to keep spinning–working with wireless providers and hardware manufacturers, cultivating developers, and supporting customers.
Apparently, there are a few kinks to work out.
Tony Bradley tweets as @PCSecurityNews, and can be contacted at his Facebook page .