Oh Ron Jeremy, could it be you were simply kidding when you called video games a 'far worse influence' than porn last week? It's so hard to tell. I mean, didn't you recently sponsor an adult-rated video game called Bonetown?
Pot and kettle, sir?
According to PC Mag, you dropped your anti-games slur at a Vegas Consumer Electronics Show panel last week titled "The Great Porn Debate," initially trading quips with an anti-pornography activist who accused you of communicating solely with a fax machine. Like a dulcet-tongued poet, you outlined the similarities between competitive athletics and adult entertainment by invoking the hauntingly eloquent expression: "World of sport versus world of spurts." You went on to boldly imply that the porn industry really ought to figure out how to properly cater to under-18-year-olds.
And then you turned on the video games industry.
We don't want kids to watch porn. Though if they do, there are far worse influences out there, like video games. [Studies have] found that violent video games are [a] much bigger…negative influence on kids.
It may be. Make love not war, so they say, and more games are about war than that other unmentionable, ban-trolling thing.
Then again, your hands aren't exactly spotless.
After all, you did star in that 1993 classic Super Hornio Bros as a computer programmer ("It's-a-me, Squeegie!") who gets sucked Tron-like into a kooky video game world, where you proceed to fight game characters and…well, let's just leave it at fight, shall we?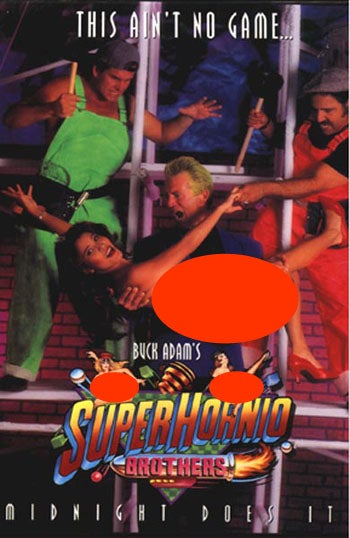 What, you blame video games for that too?
Follow me on Twitter @game_on