At a Glance
Expert's Rating
Pros
Dazzling OLED display
Snappy performance
Sleek, ultraslim design
Cons
Software keyboard is far from perfect
Average multimedia player
Our Verdict
The Google Nexus One impresses with a stunning AMOLED display, speedy performance, and cool tweaks to the Android OS; but some network issues prevent it from being a superphone.
Note: This review has been updated to reflect the February 2, 2010 update of multitouch support.
The coveted "Google phone" is finally here, but the HTC Nexus One ($180 with a two-year contract with T-Mobile, or $530 unlocked; prices as of January 12, 2010) isn't quite the superphone that Google intimated it would be. It lacks some valuable features–like multitouch and Outlook calendar syncing–that we've seen on competing models, and the Android keyboard can be difficult to use. That said, the Nexus One's speedy Qualcomm Snapdragon 1GHz processor definitely sets it apart from the Android pack in performance.
One asterisk attached to the phone's performance involves its interaction with the T-Mobile network. The phone has run into some network issues, a distressing shortcoming on a phone with so many connected features. Nevertheless, it is a very good handset and marks real progress for the Android platform.
Design: Solid, but Not Groundbreaking
The Nexus One's hardware isn't especially innovative, and its design is unmistakably the work of HTC. In fact, it most strongly resembles a stretched-out HTC Hero. Still, the phone is attractive and well constructed. Its rounded corners, solid-glass display, and rubberized back make it a pleasure to hold. At 4.5 inches tall by 2.4 inches wide by 0.47 inch thick, the Nexus One has a slimmer profile than the Droid. It also weighs less: 4.8 ounces versus 6 ounces for the Droid. I didn't care for the drab two-tone gray color scheme, however.
Four touch-sensitive hardware buttons occupy the bottom of Nexus One's display: Back, Menu, Home, and Search. A trackball, like the one on the HTC Hero, lies below the buttons. Though I'm not a huge fan of the trackball on these phones–preferring instead to rely on the touchscreen–this trackball was fast and easy to use. The touch buttons are quite responsive, too, though you have to press firmly to activate them. An oblong power button sits atop the Nexus One beside the 3.5mm standard headphone jack. On the right spine is the volume rocker; and on the bottom of the phone, the micro-USB port. The camera lens and flash are located on the back of the phone, and the microSD and SIM card slots hide under the battery.
The Nexus One's 3.7-inch AMOLED display has drawn a lot of attention, and for good reason: The display is superb. Indeed, photos and videos of the phone don't do it justice. You need to view the display in person to see how text pops out and how photos dazzle, as well as how nicely the display showcases such new features of Android 2.1 as the scrolling menu and the 3D wallpaper. When you take the phone outdoors, though, you lose much of the display's visibility, especially in bright sunlight. This limitation will especially disappoint casual photographers who would like to snap lots of pictures with the phone's 5-megapixel camera–as outdoors it is quite difficult to see the images you shoot.
Android OS 2.1: A Few Cosmetic Tweaks
The Nexus One launch was not just about the hardware: This is the first phone to run Android OS 2.1. It hasn't been announced when–or if–other phones, like the Motorola Droid (which runs Android OS 2.0) or the current crop of Samsung Android phones (all of which run 1.5) will get this update.
Android OS 2.1 adds some lively visual and aesthetic tweaks to the otherwise bland operating system–such as interesting animated wallpapers of falling leaves or waving grass. These look good on the Nexus One's display, but they're a bit distracting and they seem likely to cut into the phone's battery life at least a little bit. (You can opt for traditional static wallpaper if you prefer.)
You get five homescreens (up from the standard three) for widget and shortcut personalization. Of course, that's nothing new for Motorola Cliq and HTC Hero users: The MotoBlur and SenseUI user interfaces from Motorola and HTC, respectively, also gives users five homepages.
One noteworthy omission from Android 2.1 is the tab for pulling up your main menu. This is a good thing, because you now have one-touch access to your menu via a central icon on your screen instead. The revised menu incorporates a rolling 3D-like effect, and the icons seemed to pop more onscreen than they did in older versions of the OS.
The photo gallery got a welcome makeover, too. When you open the app, your photo groups appear in "stacks." Tap on one of the group stacks, and you can view the photo thumbnails in a grid. Alternatively, you can flick through full-size photos in a slideshow mode.
The most buzzed-about new element in Android OS 2.1 is the voice-to-text input feature. Now you can speak your current Facebook status to your Nexus One–if you dare. In my casual tests, this input method worked fairly well, though I had to speak rather loudly and somewhat slowly in order for the Nexus One to pick up on what I was saying, even in quiet environments. The phone struggled to understand me when I muttered, spoke softly, or used colloquial terms. I can't say how often I would use a feature like this, day in and day out, but it's fun to play around with.
Though I appreciate the aesthetic tweaks in Android OS 2.1, other areas seem to have been neglected since the launch of the original Android phone, the T-Mobile G1. The music player is the same straightforward player that has appeared on previous Android devices; it supports album art, playlist building, and repeat and shuffle modes. You can add music via either the included USB cable or a microSD memory card, or you can purchase DRM-free tracks from Amazon.
No Outlook Calendar Syncing
To use an Android phone, you must have a Gmail account, but you can also set up POP3 and IMAP Web-based e-mail accounts easily, and you can sync your Outlook account via Exchange.
Unfortunately, you can't sync your Outlook calendar on the Nexus One. Google says that this feature is coming soon; but in the meantime, business users might want to delay jumping on the Nexus One. My colleague David Coursey further explains why in his article "Should Business Wait for the 'Enterprise' Nexus One?"
Superb Camera
Overall, I was very pleased with the performance of the Nexus One's camera. The Android camera app seemed a bit faster than the one I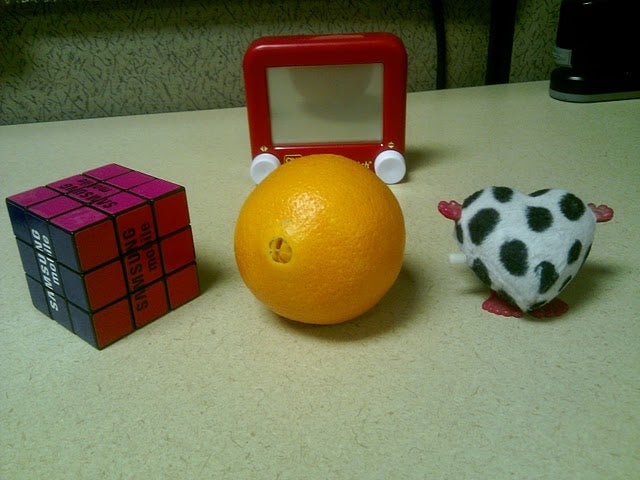 was used to, and I experienced less shutter lag than with other Android phones. Outdoor shots looked fantastic, though (as noted earlier) the display is difficult to see in bright light. A few of my indoor shots had a slight greenish tint to them (see the casual test shots at left and below); despite this, details in my snapshots looked sharp, with no detectable graininess or pixelation.
The 5-megapixel camera gives you four resolutions plus a flash, autofocus, infinity focus, a 2X digital zoom, white-balance and color-effect controls, and three quality settings. You can record video clips at lengths of up to 30 minutes at a resolution of 720 by 480 pixels (20 frames per second), but clips for multimedia messages are capped at 30 seconds.
Performance: Hit-or-Miss
What makes the Nexus One stand out from its competitors isn't its OS or its design, though. It's what lies under the hood. The powerful 1GHz Qualcomm Snapdragon processor makes the phone fly. Apps loaded almost instantaneously, and Web pages opened quickly. I especially appreciated the Snapdragon's power as I flipped through the Android 2.1's updated photo gallery app.
Call quality over T-Mobile's 3G network was quite good. Voices sounded clear and natural with ample volume. Callers on the other end of the line were generally pleased with the call quality as well, though some reported that my voice sounded a bit distance. Most of my contacts could hear me clearly, even when I was standing on a busy San Francisco street corner.
Some Nexus One users have complained that their phones frequently drop from 3G to EDGE–or lack a 3G connection altogether. I never experienced this, but I did run into some difficulties with the T-Mobile network. Most disturbingly, my Google account sometimes wouldn't load. I also endured several failed attempts to upload image files to Picasa, due to a "network error."
The Nexus One isn't quite the game-changer people hoped it would be, though it certainly trumps other phones in performance, display quality, and speed. The native Android soft keyboard is in desperate need of a redesign. And throwing in multitouch–to enhance the navigation and typing experience–wouldn't hurt. Is the Nexus One the best Android phone on the market? It's close, but I think the Motorola Droid has a slight edge because of its hardware keyboard–imperfect though it may be. No wonder Android watchers have pricked up their ears at the rumor that the next version of the Nexus One will have a keyboard and will target enterprise users.
If the network issues with T-Mobile continue to crop up, you may be well advised to resist picking up a Nexus One until the CDMA version comes out this spring or consider the version recently released for AT&T's 3G network.