Now that this year's Consumer Electronics Show is history, gadget hounds are turning their attention to a rumored Apple event on January 27, when it is widely believed Apple will announce its mythical tablet device. With just over two weeks until the supposed event, rumors surrounding the Apple tablet are reaching a fever pitch.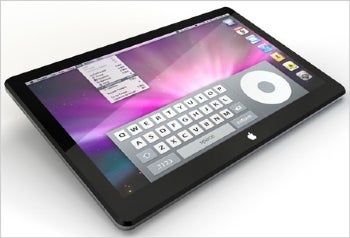 On Monday, France Telecom deputy chief executive Stéphane Richard supposedly confirmed the existence of a tablet only to have the company later deny that he'd confirmed anything. One day later, several rumors surrounding multitouch and the worldwide supply of 10.1-inch screens are being added to the mix.
Here's what's going on:
Fingerworks No More
In 2005, Apple bought a small company called Fingerworks that was doing innovative work on touch-based devices. The company's work was likely folded into the multitouch gestures that Apple used on the iPhone and MacBook trackpads. Despite purchasing the company five years ago, however, Apple left the Fingerworks.com Web site online to serve as a self-help guide for former Fingerworks customers.
But that all changed on Monday, when Macrumors discovered the Fingerworks Web site had been shut down. Macrumors speculates that Apple pulled the site offline in anticipation of the Apple tablet launch since the still-rumored tablet device could use some of the advanced gestures developed by Fingerworks. Of course, another possibility is that Apple just decided they'd left the site up long enough and were just cleaning house.
Hey Steve, can you spare a screen?
TG Daily is reporting that Apple has bought up all available supplies of 10.1-inch LCD and OLED screens. The news is according to an anonymous product designer who said it was impossible to purchase 10-inch screens right now, because Apple had bought out the supplies from all component suppliers in Asia. If true, this rumor adds credence to earlier claims that Apple plans on producing a whole lot of tablets in the product's first year, perhaps as many as 10 million. Of course it's important to remember that two complementary rumors, while compelling, don't make a fact.
Fake Screen
You can expect to see many blurry cam images as we get closer to the rumored date of Apple's announcement, and today's image comes from The Mac Observer. The blog has posted an image from an anonymous source that is purportedly the glass and frame for Apple's tablet. The glass reportedly measures 10-inches diagonal, and the frame basically looks like a stretched out iPhone right down to the home button at the bottom and the slot for the earpiece at the top. It's doubtful this image is the real deal since it mimics the iPhone far too closely and lacks a practical location for a Webcam.
There are also many other rumors about the tablet including a Reuters piece suggesting the tablet would launch this spring, and an anonymous source who last week told Silicon Alley Insider that he'd seen the tablet's user interface and it was "pretty." I'm sure tomorrow's tablet rumors will be just as shocking and insightful.
Connect with Ian on Twitter (@ianpaul).