At a Glance
Expert's Rating
Pros
Very good design and feature set
Low base price covers many appealing features
Cons
Battery life is lower than a typical netbook's
Not very powerful for an ultraportable
Our Verdict
Excellent design and features compensate for lackluster performance in a cool little laptop that will have netbook buyers considering something just a little bit bigger.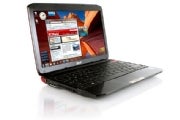 Acer's partnership with Ferrari to build laptops containing Ferrari design elements goes back at least to 2004. The Ferrari One, however, is a totally different machine from the large and expensive Ferrari laptops of the past. It weighs just 3.3 pounds with its standard six-cell battery in place, and it measures roughly an inch thick; yet it contains an Athlon X2 dual-core low-voltage CPU and 4GB of RAM. Is it a large and relatively high-powered netbook, or a small and somewhat low-powered ultraportable? From here, it appears to straddle the line effectively and appealingly.
The system's styling is great for fans of Ferrari Red. The laptop is quite thin and light, with a smooth glossy finish and nice lines. Only the large cooling vent on the left edge breaks up the sleek finish. Despite the svelte frame, Acer crams plenty of ports into the sides: three USB ports, gigabit ethernet, a VGA output, mic in and headphone out, a multicard reader slot, and even a slot for ATI's optional external graphics.
One of the best things about the Ferrari One is its low cost: The base price of $599 includes a 1366 by 768 backlit LED screen, which delivers nice contrast and color; a 250GB hard drive; 4GB of RAM; and Windows 7 Home Premium.
Sounds Good, Feels Good
The Ferrari One's sound quality is excellent for such a small system, thanks to third-generation Dolby Home Theater audio enhancements, including Dolby Headphone and Dolby Digital Live. The laptop's lack of an optical drive cuts into the sound system's utility, of course, but still TV shows on Hulu had surprising audio punch.
Other strong features include a large,comfortable keyboard; and a smooth and accurate multitouch-gesture-capable touchpad. Though the touchpad button bar is slightly stiff, it makes a satisfying "click" sound when activated and isn't susceptible to accidental pressing at the wrong time. The main disappointments are the Ctrl and Function keys, which are so narrow and so close together that it's easy to hit one instead of the other by mistake. I also wish that Acer had provided an HDMI port for video output rather than the less useful VGA port.
Reasonable Performance for Such a Small System
Speaking of Hulu and other Web video sources, the integrated ATI Radeon HD 3200 graphics chip does a fairly good job with video acceleration. It struggled a little on higher-bitrate 1080p video, but typical Web flash and standard-def video–and even 720p H.264 video–looked clean and stutter-free. This is a big step up from the Intel integrated graphics that most netbooks use. The Radeon HD 3200 also handles 3D graphics processing far more capably than the Intel alternative does, though it may be a bit too weak to support the latest games.
This Ferrari One posted a score a 61 on WorldBench 6, which is low in comparison to what a top-notch ultraportable notebook (like the Sony VAIO VGN-Z598U) earns, but excellent in comparison to what even the best netbook (the Toshiba Mini NB205-N310, say) can manage. In view of the laptop's size and price, its overall performance is by no means a dealbreaker. Its battery life measured just under 5 hours–an average figure for a system of its size. (A typical 10-inch netbook lasts several hours longer.)
If you'd like to make the Ferrari One your one and only PC, you'll probably find that it's a slightly small and underpowered to handle the job satisfactorily. If you think of it as an on-the-go companion PC, though, it's most impressive. The laptop's slick design, solid features, and adequate performance for its size and weight make it a great buy.