Electronics manufacturer Samsung announced on Tuesday two new flash-based storage solutions, both of which are ideal for mobile use. The company unveiled a high-density 64GB moviNAND flash memory chip, in addition to a 32GB micro secure digital (SD) card.
The removable flash-based 32GB microSD card, which was developed this month, is made up of eight 4GB stacked chips, and Samsung claims that it's the industry's highest-capacity production-ready microSD card.

However, despite the impressive card density the new microSD card still has a staggeringly slim profile, coming in at only 1mm in thickness and just 0.7mm in height. The card is due to enter production this February.
Samsung also detailed that its 1.4mm-thick 64GB flash chip was developed using the company's 30-nanometer process, packing in sixteen stacked 4GB chips and its own storage controller.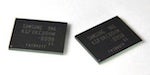 The company claimed that the 64GB moviNAND chip has been in mass-production since December, and will be the first on the market, beating Toshiba's recent efforts.
With higher-capacity flash memory slowly becoming more commonplace it may not be long before we start seeing devices, such as smartphones and portable media players, housing increased memory. Both Toshiba and Samsung are currently suppliers of flash memory to Apple, so it's no surprise that recent claims state that the next iteration of Apple's popular iPhone could feature higher capacity on-board memory.
[Via Gizmodo]
Follow GeekTech and Chris Brandrick on Twitter.