Google unveiled the Nexus One a little over a week ago after weeks of rumors and hype. Not only has the Android-based handset failed to revolutionize the smartphone industry as some had speculated, but the spiraling debacle suggests Google may have underestimated what it takes to compete in the smartphone arena.
Weak Sales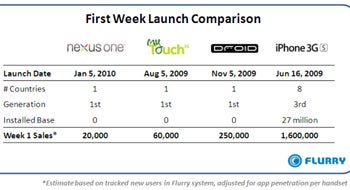 I have not seen or heard any projections for how many Nexus One handsets Google planned on selling, but I imagine that it expected higher than the reported 20,000. Apple set the bar pretty high, selling 1.6 million iPhone's in the week following its launch, but the Droid sold more than 12 times the Nexus One, and even the MyTouch 3G pushed out 60,000 in the first week.
Granted, while Verizon invested millions marketing the Droid and generating buzz prior to its launch, Google actually did the exact opposite–trying to work in stealth and keep the existence of the Nexus One and specific details of the device secret. Still, I think Google would be lying if it didn't admit that 20,000 is a disappointing start.
Network Issues
As soon as users began to receive their Nexus One handsets, complaints of flaky or non-existent 3G connectivity began to mount. There is room for finger-pointing, and it can be debated whether those issues are a function of the handset–which is made by HTC, or the network–which is managed by T-Mobile.
The bottom line, though, is that it is Google's phone. Google chose to develop a branded Android smartphone, and regardless of whether issues lie with the hardware or the network, the buck ultimately stops at Google.
Marketing aside, part of the reason that the Droid is more successful is the choice of provider. Motorola partnered with Verizon–the largest wireless provider in the United States, while Google chose to hitch its wagon to T-Mobile.
If you want to revolutionize smartphones–or even rebrand them as "superphones"–the obvious choice is to go with the last place wireless provider. Verizon has the largest 3G network. AT&T claims the fastest 3G network. Sprint markets its 3G network as the most dependable. What is T-Mobile's network claim to fame? Smallest?
Google's decision to launch its revolution by partnering with T-Mobile shows shockingly poor judgment. Perhaps T-Mobile is easier to push around and more willing to give Google the types of concessions it was seeking?
Who You Gonna Call?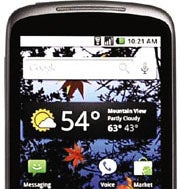 One of the centerpieces of Google's Nexus One launch is its Web-based store for selling the handsets. But, when users purchase a Nexus One made by HTC from Google's Web site to use on T-Mobile's network and they encounter issues, who is responsible for providing support?
Apparently, Google, HTC, and T-Mobile are struggling to answer that question as well. Ultimately, it seems to me that Google should provide support for a device branded as, and purchased from, Google. However, Google is only equipped to provide e-mail support and users experiencing issues with their smartphone are not willing to accept a 48-hour response time.
One user called me to describe his personal story. His Nexus One arrived with a defective trackball right out of the box. After spending hours bouncing back and forth between Google, T-Mobile, and HTC, he was finally able to get some answers from HTC, but they weren't good answers.
The voice quality of the Nexus One was too poor for the HTC support technician to understand him, so he had to call back from a land line. After jumping through a number of hoops because HTC could not find the serial number of his device or his name in the system, he was able to explain the issue with his handset.
I would expect that a device that is defective out of the box would be immediately replaced with a rush, overnight shipment, but this user was told that his options are to send the phone back at his own expense for warranty support, or they could send him a new phone first, but only if they could put a $529 hold on his credit card first which they would remove once they receive the defective handset.
Google responded to my inquires about Nexus One support with the following statement:
"Solving customer support issues is extremely important to us, because we want people to have a positive Nexus One experience. We have a dedicated, comprehensive Google customer support team in place for the Nexus One, and we're applying different customer support tools to resolve customer inquiries quickly and effectively. We are also working closely with HTC and T-Mobile to address any customer support inquiries regarding the product or cellular plans. We'll continue to address all issues in as timely of a manner as possible, and we're flexible and prepared to make changes to our processes and tools, as necessary, for an optimal customer support experience."
The bottom line is that the support thus far leaves a lot to be desired. My PC World peer David Coursey summed it up nicely, "Google is learning that what works for freebies doesn't cut it for $529 smartphones."
Breaking Up is Costly
The latest piece of the Nexus One fiasco is the revelation that early termination costs more than the full price cost of the phone, and more than three times what it actually costs to make one.
Users who cancel after 14 days will be subject to $550 in early termination fees. T-Mobile gets $200 of that for early termination of the wireless contract, and the other $350 goes to Google as an "equipment recovery fee".
Verizon is already being scrutinized by the FCC for doubling its early termination fee to $350 for high-end smartphones. I imagine the FCC will take exception to Google and T-Mobile's indentured servitude business practices as well.
Google never had quite the Teflon reputation that Apple enjoys, but Google has a solid and loyal following of its own. Expectations for the Nexus One were high, but the growing fiasco its launch has become demonstrates that Google may be out of its league in the smartphone arena, and threatens to damage Google's credibility.
Tony Bradley tweets as @PCSecurityNews, and can be contacted at his Facebook page .